Travel Insurance for Croatia
Last updated on 10/24/2022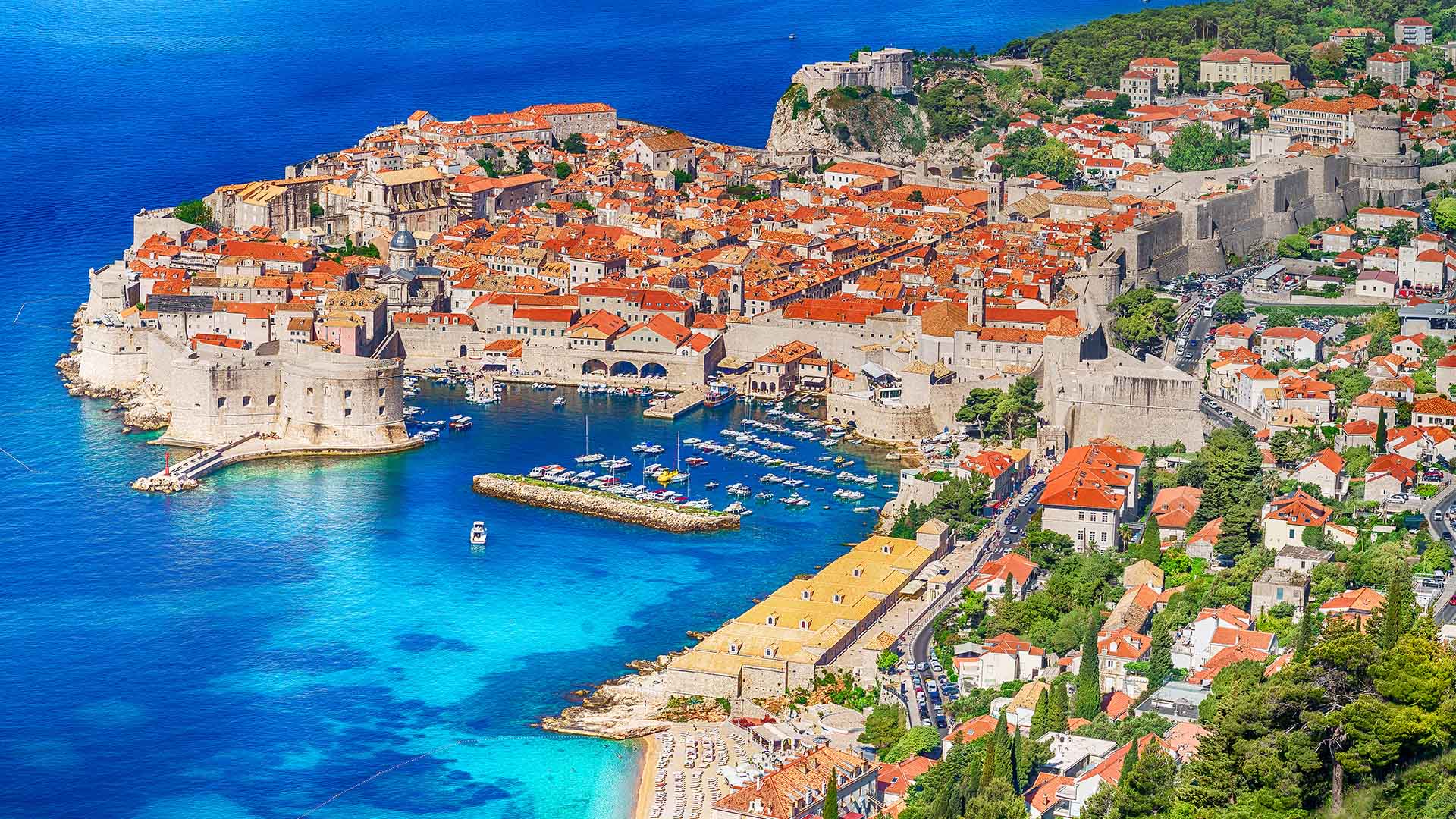 Do I Need Travel Insurance for Croatia?
Croatia is a geographically diverse nation, home to historic cities protected by UNESCO, picturesque islands, and some of the best sailing in the Adriatic Sea. While proof of travel insurance is not mandatory to visit Croatia, protecting a trip with travel insurance is highly recommended to lessen the chance of financial strain. Even the most well-planned trips may encounter transportation delays or cancellations, lost or damaged luggage, medical events, and more.
Whether arriving by plane or cruise ship, travelers may benefit from assistance with disruptions in transportation services. Baggage can be covered in case of loss, delay, or damage to personal items. Travel insurance for a cruise to Croatia may cover missed connections, shipboard service disruptions, "Return Home Early," and more.
Certain activities tend to require specific coverage. For example, travelers participating in high-risk activities like rock climbing will need a hazardous sports rider for medical treatment related to such activities to be covered. Renting a car, vacation home, or a yacht in Croatia? Protect your rentals with travel insurance in case of accidental damage or other mishaps.
Regardless of your itinerary, Croatia travel protection may provide financial assistance to travelers who find themselves in an emergency or otherwise difficult situation overseas.
How Much Does Croatia Travel Insurance Cost?
The price of travel insurance for Croatia may vary depending on the details of each trip. In general, the length of a trip, number of covered travelers, ages of the travelers, and the coverage included will determine how much Croatia trip insurance costs.
Travelers may expect rates to go up as risk involved with a trip increases. As such, travelers may pay more for a policy when covering older travelers or taking a longer trip. Different types of coverages may also vary in price. In some cases, visitors to Croatia opt to insure their total "nonrefundable" trip cost for a percentage refund in case of a covered cancellation.
What Does Travel Health Insurance for Croatia Cover?
Travel health insurance for Croatia typically covers expenses related to illness and injury during your trip. Travel medical insurance may assist travelers with hospital fees, emergency medical or dental treatment, and emergency evacuation. These benefits and more may be purchased as a standalone medical plan or alongside travel-related benefits in a comprehensive travel insurance plan. Comprehensive plans may also provide coverage for disruptions such as lost baggage, travel delays, and more.
Depending on the plan, Croatia travel medical insurance may include additional coverages including, but not limited to:
Trip interruption due to severe injury or illness
Hazardous sports coverage
Many travelers prioritize COVID-19 precautions when traveling abroad. However, because COVID-19 is considered a "known event," some travel insurance providers do not provide coverage for the coronavirus. To ensure COVID-19 coverage in your Croatia travel insurance, start a travel insurance quote and select "Top Picks for COVID-19" on the results page. This filter will allow you to only view travel insurance plans that include coverage for expenses related to the coronavirus in Croatia, such as testing, isolation, hospitalization, and treatment.
What is the Best Travel Insurance for Croatia Trips?
Since each traveler has their own itinerary and personal concerns, finding coverage to suit these needs can best be done by comparing different providers, plans, and prices.
InsureMyTrip offers travelers an online travel insurance quote tool to assist in your search for the best travel insurance for Croatia. This unbiased quote generator filters through thousands of plans to recommend providers and plans based on each individual trip.
Travelers are encouraged to consider their full travel plans, health status, and budget when reviewing international insurance for Croatia.
---
Travel Tips & Safety for Croatia
Money & Currency Exchange
As of January 2023, Croatia enters the Eurozone and the country's official currency is the euro. Many travelers exchange their home currency for the euro before departing for their trip, but it's also possible to get euros after arriving in Croatia. If you would prefer not to buy online and make the trade in person instead, one recommended way to get euros in Croatia is by withdrawing from a bank or ATM. ATMs in Croatia typically accept major cards such as Visa, Mastercard, American Express, and Diner's Club. These cards are accepted by most establishments in the country, but in general it's customary to pay in cash (euros only) in bars and cafes. Additionally, you may need cash when in remote locations, buying from small and local businesses, or when tipping a service person (luggage porter, tour guide, etc). Tipping isn't the expectation anywhere except in restaurants, but it's always appreciated.
Transportation
Croatia is connected by systems of comfortable buses, railways, and waterways. Travelers with a valid driver's license may also be able to rent a vehicle while in Croatia. Rental options may include cars, boats, bicycles, and more. Locals and tourists tend to prefer buses, which typically feature comfortable seats, air conditioning, free Wifi, and power sockets. The easiest way to purchase a Croatian bus ticket is on vollo.net. Taxis are common in cities and typically use meters. The average fare may vary from town to town.
Risk & Crime
Croatia is considered an overall safe country to visit, scoring an 83/100 on TravelSafe's safety index. The crime rate is low and even petty crime is uncommon in Croatia. However, there are some risks travelers to Croatia should be aware of before making the trip to this scenic country. First, certain areas contain leftover landmines from the war ending in 1955. These areas will be marked by signs. Be wary of such signs and consider avoiding any areas where you don't see other people walking around. Locals are likely to know which areas to avoid, so it may be best to follow their lead.
Additionally, while there are no ozone holes over Croatia, sunburns are quite common. Travelers who expect to be outside are recommended to carry and apply sunscreen as needed throughout the day, even when it is not hot outside. Clubs and other nightlife-type establishments in Croatia may be considerably expensive and run by shady characters. In many cases, it's best to avoid nightclubs in Croatia. To lessen the risk of becoming a target of tourist scams or pickpocketing, travelers are recommended to dress modestly, hide all valuables, travel with a companion, and remain in well-lit, public places whenever possible.
---
Top 15 Travel Destinations & Tourist Attractions in Croatia
Dubrovnik
Plitvice Lakes National Park
Hvar Island
Korčula Island
Zagreb
Krka National Park
Split
Zadar
Motovun
Pula
Mljet Island
Kopački Rit Nature Park
Vis Island
Rovinj
Zagorje Region
---
U.S. / Croatia Embassy and Consulate Locations
U.S. Embassy in Croatia
U.S. Embassy Croatia
Ulica Thomasa Jeffersona 2
10010 Zagreb, Croatia
Phone: 385.1.661.2200
Croatian Embassy and Consulate in USA
Washington DC — Embassy of the Republic of Croatia
2343 Massachusetts Avenue, N.W.
Washington DC 20008 United States
Phone: 1.202.588.5899
Anchorage, Alaska — Consulate General of the Republic of Croatia
5015 Business Park Boulevard, Suite 3000
Anchorage, AK 99503 United States
Phone: 1.907.275.2874
Los Angeles, California — Consulate General of the Republic of Croatia
11766 Wilshire Blvd., Suite 1250
Los Angeles, CA 90025 United States
Phone: 1.310.477.1009
Chicago, Illinois — Consulate General of the Republic of Croatia
737 N. Michigan Avenue, Suite 1030
Chicago, IL 60611 United States
Phone: 1.312.482.9902
New Orleans, Louisiana — Honorary Consulate of the Republic of Croatia
935 Gravier Street, Suite 1905
New Orleans, LA 70130 United States
Phone: 1.504.620.4212
Minneapolis/St. Paul, Minnesota — Consulate General of the Republic of Croatia
1st National Bank Building
332 Minnesota St W2402
St. Paul, MN 55101 United States
Phone: 1.651.497.1832
Kansas City, Missouri — Consulate General of the Republic of Croatia
1201 W. 64th Terrace
Kansas City, MO 64113 United States
Phone: 1.913.371.2525
New York, New York — Consulate General of the Republic of Croatia
820 Second Avenue, 18th Floor
New York, NY 10017 United States
Phone: 1.212.599.3066
Pittsburgh, Pennsylvania — Honorary Consulate of the Republic of Croatia
100 Delaney Drive
Pittsburgh, PA 15235 United States
Phone: 1.412.843.0380
Houston, Texas — Honorary Consulate of the Republic of Croatia
2336 Albans Road
Houston, TX 77005 United States
Phone: 1.713.444.1442
Seattle, Washington — Honorary Consulate of the Republic of Croatia
7547 South Laurel Street
Seattle, WA 98178 United States
Phone: 1.206.772.2968
Disclaimer: The information contained in this article serves as a general overview of benefits and should only be used for informational purposes. Refer to your individual certificate of insurance for specific coverages, exclusions, and benefits. When in doubt, please contact one of our licensed agents for additional assistance.