Travel Insurance for Denmark
Last updated on 06/22/2023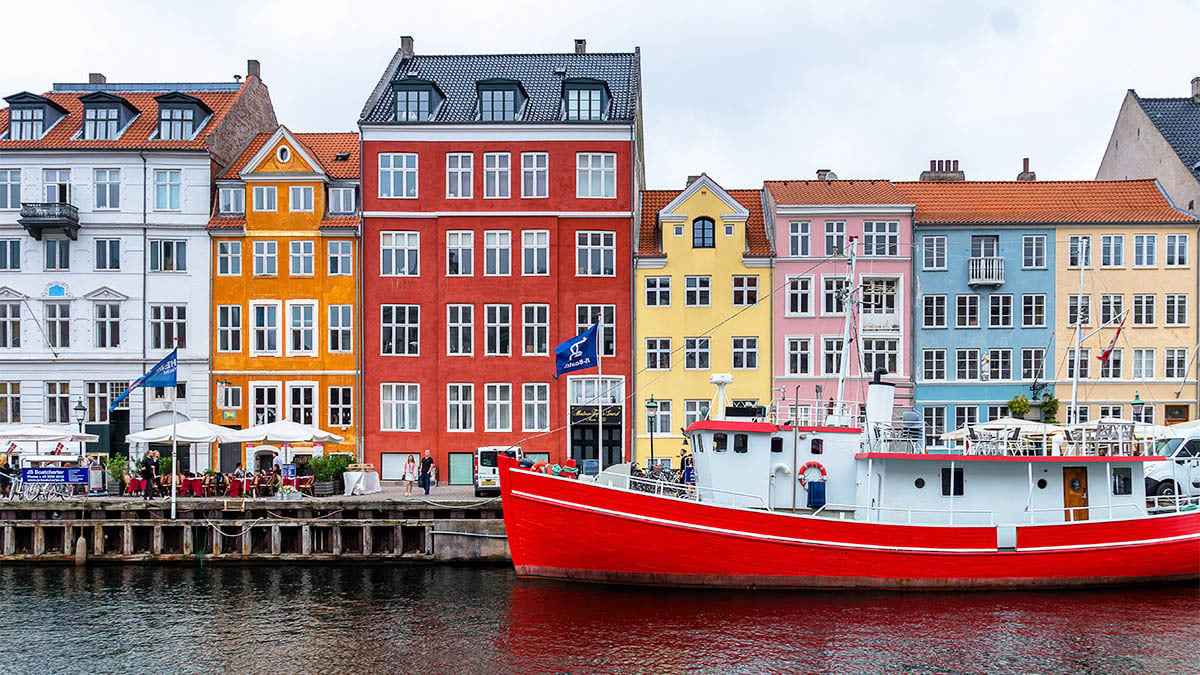 ---
---
Do I Need Travel Insurance for Denmark?
Denmark may require visitors to show proof of specific travel insurance before issuing a visa allowing entry to the country.
U.S. citizens are exempt, but as a member of the Schengen Area, Denmark does call for visitors from certain countries to show proof of travel insurance which includes the following:
$0 Deductible
At least $50,000 of Medical Emergency / Hospitalization Coverage
At least $300,000 of Medical Evacuation / Repatriation Coverage
The travel insurance provider has offices located in Europe
A more robust travel protection plan for a trip to Denmark is optional, but highly recommended due to the many unpredictable elements involved in international travel. Designed to assist travelers with expenses in emergencies and other unforeseen situations, travel insurance may lessen the likelihood of a sudden financial burden while you are traveling abroad.
Various coverages may be included in Denmark travel protection plans, including but not limited to health and dental care, disruptions in transportation services, the delay or loss of luggage, and much more.
How Much Does Denmark Travel Insurance Cost?
Travel insurance is not one-size-fits-all. The price of travel insurance for Denmark is mainly determined by the number of travelers and their ages, the duration of the trip, and the type of coverage.
A general rule of thumb to remember is that prices may increase as risk associated with the trip increases. Extending the length of the trip, adding more coverages, or covering more travelers will likely alter the price of your Denmark trip insurance policy.
What Does Travel Health Insurance for Denmark Cover?
Each Denmark travel medical plan is unique to the trip and travelers being covered. Travelers may choose between different levels of coverage in order to protect their trip against concerns specific to the traveling party.
At the very least, certain visitors' Denmark travel insurance must include a minimum of $50,000 for medical emergency and hospital treatment, as well as a minimum of $300,000 for emergency medical evacuation.
In addition to this mandatory medical coverage, we recommend all travelers consider the following medical benefits for a trip to Denmark:
Travel health insurance for Denmark may be purchased on its own or as part of a comprehensive travel insurance plan. Comprehensive plans can include travel-related benefits (like benefits related to cancellations, car rentals, or other coverages) in addition to travel medical coverage.
What is the Best Travel Insurance for Denmark Trips?
As all travelers have their own budget and coverage needs, there can be no one best travel insurance plan. Comprehensive travel insurance plans may have the greatest number of benefits for those traveling to Denmark and the various situations that may arise while overseas. Travelers may consider emergency medical coverage as well as protection against costs associated with delays, cancellations, and lost baggage.
If applicable, be sure that your travel insurance policy for Copenhagen, the rest of Denmark, and any other countries in the Schengen region will meet the minimum requirements for entry to the Schengen Area.
To find the right Denmark travel insurance plan for your next trip and budget, it's recommended to compare different companies and plans based on your travel needs. InsureMyTrip's free quote process with unbiased results can help you narrow coverage selections down by your criteria and identify options that may work best for your trip to Denmark.
---
Travel Tips & Safety for Denmark
Money & Currency Exchange
Though part of the European Union, Denmark uses its own currency. The official currency of Denmark is the Danish krone (plural: kroner) with the currency code DKK. When paying for services or shopping in Denmark, you may see prices marked by the symbols DKK or kr. Each krone can be divided into 100 øre. Denmark's coins are available in values of 50-øre, 1, 2, 5, 10, and 20 kr, while banknotes are available in values of 50, 100, 200, 500, and 1000 kroner. Cash is commonly used in Denmark, as well as major credit cards like Visa and Mastercard. Occasionally, businesses in cities like Copenhagen will also accept American Express and Diner's Club cards. Be advised that there will often be an extra fee when you pay with your cards from home, so for some travelers it's best to carry cash in krone. It may be tempting to exchange your home currency for Danish krone at ATMs, airports, or hotels because the location is more convenient, but the best exchange rates are usually found by researching current global exchange rates and shopping around for the best deal. Money exchangers found around cities and towns typically offer better rates than airports, hotels, and ATMs.
Transportation
Getting around Denmark is made easy with modern and efficient public transportation systems plus the option to rent and drive a private car. The metro and train routes in Copenhagen and the InterCity (IC) trains connect major destinations for affordable prices, earning approval from locals and visitors alike. IC trains come equipped with comfortable seats, air conditioning, wifi, power sockets, and disability-friendly features, so the time should pass by quickly even on longer rides. For faster travel, Denmark also offers domestic flights between Copenhagen and Aalborg, Aarhus, and Rønne.
Some of Denmark's outlying islands can only be reached by water. Harbor buses (Havnebus) take passengers up and down the harbor in Copenhagen for the same price as regular bus tickets but also serve an important role in lowering Denmark's CO2 emissions. Denmark is dotted with ferry services that sometimes offer shorter travel times than land routes of the same distance. These ferries can also take you international, connecting Denmark to neighboring countries like Sweden and Germany.
Risk & Crime
Denmark is considered a very safe country to visit, placing 2nd in TravelSafe's list of the safest countries in the world. Public spaces in Denmark are generally clean and modern, giving travelers little to worry about when walking through towns and cities. However, no destination is completely free from petty theft or pickpocketing, and travelers to Denmark should always stay aware of their surroundings to lessen the chance of theft. When in public, keep your belongings put away and completely inaccessible to passersby. It's also best practice to be wary of common tourist scams and how to avoid them.
The U.S. State Department has also warned of the risk of terrorist activity in Denmark, which may occur with little or no warning. Monitor local media for breaking news before and during your trip for the most updated information.
As for natural disasters or weather-related risks, Denmark has at times seen coastal flooding, storm surges, and heavy rainfall. These events often take place during the wettest season in Denmark — from November to January. If your trip is between the months of November to January keep an eye on local weather reports before and during your trip.
---
Top 15 Travel Destinations & Tourist Attractions in Denmark
Bornholm
Skagen including Råbjerg Mile
Billund including LEGO House
Aarhus
Copenhagen including Tivoli Gardens & Christiansborg Palace
Odense including Hans Christian Andersen Museum
The Farøe Islands
Ribe
Aalborg
Roskilde including Vikingeskibsmuseet (Viking Ship Museum)
Gilleleje
Hillerød including Frederiksborg Castle
Elsinore
Mols Bjerge National Park
Møns Klint Biosphere
---
U.S. / Denmark Embassy and Consulate Locations
U.S. Embassy and Consulate in the Kingdom of Denmark
U.S. Embassy Copenhagen
Dag Hammarskjölds Allé 24
2100 København Ø
Phone: 45 33 4171 00
U.S. Consulate Nuuk
Aalisartut Aqqutaa 47
Nuuk 3900 Greenland
Phone: 299 384 100
Danish Embassy and Consulate in USA
Washington DC — Embassy of Denmark
3200 Whitehaven St. NW
Washington DC 20008 United States
Phone: 1.202.234.4300
Anchorage, Alaska — Royal Danish Consulate
310 K Street, Suite 305
Anchorage, AK 99501 United States
Phone: 1.907.276.1221
Los Angeles, California — Royal Danish Consulate
11766 Wilshire Boulevard, Suite 270
Los Angeles, CA 90025 United States
Phone: 1.310.645.0540
Denver, Colorado — Royal Danish Consulate
5353 West Dartmouth Avenue, Suite 508
Denver, CO 80227 United States
Phone: 1.303.980.9100
Miami, Florida — Royal Danish Consulate
213 East Sheridan Street, Suite 3
Dania Beach, FL 33004 United States
Phone: 1.954.967.8800
Honolulu, Hawaii — Royal Danish Consulate
3615 Harding Avenue #304
Honolulu, HI 96816 United States
Phone: 1.907.276.1221
Chicago, Illinois — Royal Danish Consulate
875 N. Michigan Avenue, Suite 3950
Chicago, IL 60611 United States
Phone: 1.312.787.8780
Detroit, Michigan — Royal Danish Consulate
1 Towne Square, Suite 1700
Southfield, MI 48076 United States
Phone: 1.313.875.9856
Minneapolis, Minnesota — Royal Danish Consulate
3300 Wells Fargo Center
90 South Seventh Street
Minneapolis, MN 55402-3901 United States
Phone: 1.612.672.8389
Portland, Oregon — Royal Danish Consulate
1600 Pioneer Tower
888 SW Fifth Avenue
Portland, OR 97204-2099 United States
Phone: 1.503.802.2131
Dallas, Texas — Royal Danish Consulate
2701 Hibernia Street
Dallas, TX 75204 United States
Phone: 1.214.680.7778
Houston, Texas — Royal Danish Consulate
2800 Post Oak Blvd, Suite 1910
Houston, TX 77056 United States
Phone: 1.713.622.9018
San Juan, Puerto Rico — Royal Danish Consulate
166 Constitución Ave
San Juan, PR 00901
Phone: 1.787.289.9250
Disclaimer: The information contained in this article serves as a general overview of benefits and should only be used for informational purposes. Refer to your individual certificate of insurance for specific coverages, exclusions, and benefits. When in doubt, please contact one of our licensed agents for additional assistance.