Travel Insurance for Israel
Last updated on 07/19/2023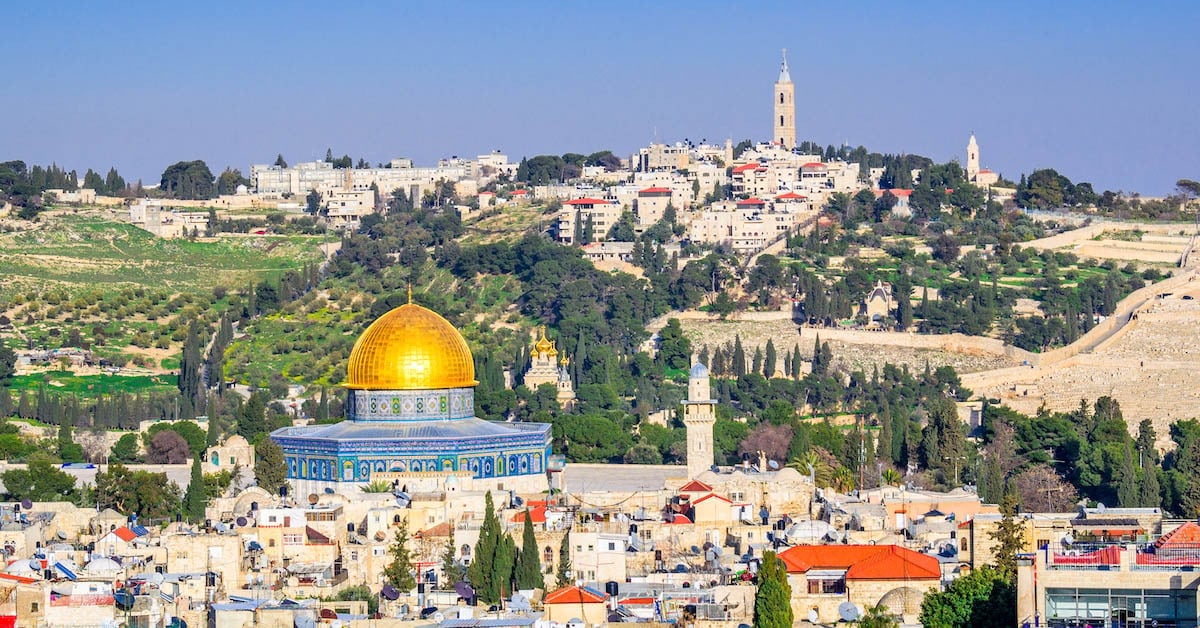 ---
---
Do I Need Travel Insurance for Israel?
Many people throughout the world have roots in Israel. Others are simply curious to see all the religious and historical sites throughout the country. With so much to see and do, it's no surprise that Israel is one of the most popular destinations among our customers. Consequently, we are frequently asked whether travel insurance is required for trips to Israel. While travel insurance covering COVID-19 was required, the requirement has been since been lifted. Despite the removal of mandatory coverage, we highly recommend that visitors purchase travel insurance for Israel. Whether travelers need to protect against surprise costs relating to injury or illness or need more robust coverage through a comprehensive plan that covers baggage loss, travel delays, or cancellations, getting a quote is simple and free with InsureMyTrip.
Purchasing an insurance plan may help to protect against unexpected events derailing your vacation or business trip. While the hope is that nothing will go wrong while traveling abroad, the reality is that travel disruptions, including medical emergencies, lost items, and even weather can impact your trip to Israel.
How Much is Travel Insurance to Israel?
Determining how much travel insurance costs depends on much more than just the location you're traveling to. Information like age, number of travelers, health history, travel dates, and level of coverage are some of the many factors that affect travel insurance rates. Additionally, rates may be influenced by the risk involved due to civil unrest, terrorism, or frequent inclement weather. The best way to find out how much trip protection for Israel will cost you is to enter your trip details into our quote form. The process is free and allows travelers to compare plans and coverages from many insurance providers at the same time.
Is Israel a Schengen Country?
Israel is not part of the Schengen zone, so travel insurance does not need to be Schengen visa-compliant when traveling there. However, if Israel is but one stop and other stops on your trip include countries that are part of the Schengen area, you may still need to purchase a Schengen visa-compliant plan. Only citizens of certain countries are required to obtain Schengen visas when visiting any of the 26 member countries.
Israel Travel & Safety Tips
Currency & Money Exchange
As with any trip abroad, travelers should consider how they will access money. Those traveling to Israel typically exchange their domestic currency, either before departing or once they've arrived, for the Israeli Shekel. The Shekel, abbreviated as NIS, is the country's official currency. Exchange rates between the Shekel and the U.S. dollar, British pound, euro, etc. are in constant flux, so it's important to evaluate these rates in the weeks and days leading up to your trip. Travelers should always research how much the bank and credit card commissions for withdrawals are before departing to eliminate surprises and minimize unnecessary expenses. Although ATMs are abundant in Israel, some do not take foreign cards. However, credit cards are accepted in most places, even for small purchases. Most visitors to Israel bring two or more credit cards (issued from different banks) in case of theft, loss, or problems with the issuer.
Transportation
Israel features a growing public transportation system, which includes bus service, trains, and light rail/subway systems. Share taxis and private taxis often follow similar routes to the bus system but allow for passengers to get on or off anywhere along the route. Keep in mind that this added convenience comes at an additional cost. The country also features 47 airports, the largest of which serve major cities and offer international flights. If you plan to spend most of your time in metropolitan areas, then walking can be a great mode of transport. However, it's easy enough to hail a taxi if the weather turns or you get tired. The modes of transport you select will depend on your itinerary as well as your budget. Like any part of your trip, you'll want to plan ahead.
Culture
The Israeli people are well-known for their approachability as well as their "European" style of hospitality. Israelis are also proud of their culture and are usually happy to talk about history, religion, and politics with foreign visitors. Some western travelers are surprised at first by how direct Israelis are when communicating, but this should not be interpreted as rudeness. In general, visitors should observe local customs just as they would when visiting any country. Of course, etiquette also varies from person to person, so it's best to observe social cues and avoid assumptions to ensure you do not offend your gracious hosts.
Dress is casual for most areas, but some locations including holy places require modest clothing. You should consider the sites you'll visit as well as any activities on your itinerary when packing for your trip to Israel. Upscale restaurants and clubs often require formal attire as well. You'll also want to think about the weather and plan accordingly. The climate in northern regions and coastal areas of Israel is similar to that of Mediterranean countries, whereas the south and east tend to be more arid. The rainy season typically coincides with winter in North America, so pack some rain gear if you'll be visiting between October and May.
There are several religions in Israel, but the two most common are Judaism and Islam. Judaism accounts for over 75% of the religious population, whereas Islam makes up around 20%. For this reason, tourists should pay special attention and be respectful of religious customs. Jewish Sabbath, or Shabbat, is the most sacred of Jewish holy days. It starts on Friday evening and continues until Saturday evening (sundown to sundown). There are many customs associated with Shabbat. For example, some Jews do not go to work, travel, or use electricity during the holy day. Many businesses, public transportation systems, and most government entities are closed as well. Of course, the degree to which Shabbat affects tourism has been changing in recent years. For example, Tel Aviv is quite a bit more secular than other parts of the country so many tourist hotspots remain open. Be sure to research where you will be in Israel for Shabbat, so you can plan ahead. In some places, it is a violation to smoke on Shabbat even for foreigners. Pay attention to signs so you know how to comport yourself during Shabbat.
Speaking the Language
Hebrew is the official language of Israel. While most Israelis won't expect tourists to be fluent or even know the language, mastering a few common phrases is sure to help your travels. Israelis living in metropolitan areas are more likely to speak English, which can make things easier for the average tourist from the states or the UK. However, if you plan to travel to the more remote destinations in Israel, the locals are less likely to speak anything other than Hebrew.
While Hebrew is most widely spoken, Arabic is also spoken in many areas of the country and is a recognized language for this reason. Research the areas you plan to travel to and prepare for the languages you'll encounter. Consider using an app to learn a few Hebrew or Arabic phrases before you depart. You may also want to download an app on your phone that can translate real-time or even use your camera to read and translate signs. At the very least you'll want to know "shalom," which literally translates to "peace" but is used for both "hello" and "goodbye."
History
Despite the ancient history of the area, Israel is actually a relatively new country and was established in 1948 following the end of World War II. The declaration of Israel as a sovereign nation resulted in the 1948 Arab-Israeli War, sometimes referred to as the First Arab-Israeli War, in which the newly declared state fought a military coalition of surrounding Arab nations for control of the former British occupied Mandatory Palestine. Since then, control over the land area including the West Bank, Golan Heights, and Gaza strip has been hotly disputed between the Jewish majority and the Arab minority including surrounding countries. Tensions heightened even further in 1967 over the closure of the Straits of Tiran. Israel had previously vowed that closing these main shipping routes would be cause for war. The dispute escalated into the Six-Day War, but Israel's swift military offensive quickly asserted their dominance in the area and demoralized Egyptian, Syrian, and Jordanian troops. Following the conflict, all three countries signed a ceasefire with Israel. In the years since, additional conflicts have arisen including the infamous Yom Kippur War. While peace treaties have been signed with both Jordan and Egypt, no resolution has been permanently reached in the Israeli-Palestinian conflict. Even today, violence still arises but fighting is largely limited to areas along disputed borders.
Crime Risk
Although the news might have you believe otherwise, Israel is considered a relatively safe place to travel. The Israeli-Palestinian conflict flares up every so often, but the disputes are generally between military groups rather than citizens and tourists. For this reason, tourists usually just plan to avoid dangerous locations, including areas that border contested geographic regions.
We primarily get two types of calls from customers purchasing travel insurance for Israel. The first type of caller is a seasoned traveler who has made the trip to Israel many times. This traveler tends to have roots in the country and may even have already taken a birthright trip. The second kind of caller we get is a bit more nervous and may have mild concern over recent news, especially as it pertains to terrorism or travel advisories issued for the area. In general, areas like the West Bank and Gaza Strip have limited insurance coverage, if any, so keep that in mind when planning your itinerary. Additionally, terrorist attacks must be deemed as such by the U.S. government in order for coverage to take effect.
If you feel that you may want to cancel your trip, then consider cancel for any reason coverage. Also known as "CFAR," this coverage allows for cancellation of the trip for reasons outside traditional plans. Please note, CFAR typically dictates that the trip is canceled between 2 and 4 days before departing and CFAR coverage is usually only available within 10-30 days of your initial trip payment. Similarly, if you think you may want to head home before your trip has completed, consider a travel insurance plan that offers interruption coverage. This coverage will allow you to cut your trip short and return home early due to unforeseen events. If you're still nervous, you might want to take your initial Israel trip with a group because you'll benefit from the company of other first-timers, well-seasoned travelers, and the addition of the tour company. Every traveler's needs are different, so feel free to contact our customer care experts with any additional questions.
Popular Destinations & Tourist Attractions in Israel
Deciding where to go and what to do is one of the most fun parts of planning a trip, and your trip to Israel should be no different. We've compiled a list of some of the most popular tourist destinations in Israel. Your itinerary will probably be a little different from our "best-of" list depending on your interests and activity level, but everyone needs a starting point. Whether you see just one or all of these suggested destinations while visiting Israel, you're sure to have a fulfilling and memorable trip.
Top 10 Travel Destinations in Israel
Haifa
Dead Sea
Nazareth
Sea of Galilee
Tel Aviv
Jerusalem
Acre (Akko)
Masada
Ramon Crater (Makhtesh Ramon)
Eilat
U.S. / Israel Embassy and Consulate Locations
U.S. Embassy in Israel
U.S. Embassy Jerusalem
14 David Flusser
Jerusalem 9378322 Israel
Phone: 02.630.4000
U.S. Embassy Jerusalem Branch Office Tel Aviv
71 HaYarkon Street
Tel Aviv 6343229 Israel
Phone: 03.519.7575
Israeli Embassy and Consulate in USA
Washington DC — Embassy of Israel
3514 International Dr. NW
Washington DC 20008 United States
Phone: 1.202.364.5500
Los Angeles, California — Consulate General of Israel
11766 Wilshire Blvd, Suite 1600
Los Angeles, CA 90025 United States
Phone: 1.323.852.5500
San Francisco, California — Consulate General of Israel
456 Montgomery St #2100
San Francisco, CA 94104 United States
Phone: 1.415.844.7510
Miami, Florida — Consulate General of Israel
100 N Biscayne Boulevard, Suite 1800
Miami, FL 33132 United States
Phone: 1.305.925.9400
Atlanta, Georgia — Consulate General of Israel
1100 Spring St. N.W. Suite 440
Atlanta, Georgia 30309 United States
Phone: 1.404.487.6500
Chicago, Illinois — Consulate General of Israel
500 West Madison St, Suite 3100
Chicago, IL 60661 United States
Phone: 1.312.380.8800
Boston, Massachusetts — Consulate General of Israel
20 Park Plaza
Boston, MA 02116 United States
Phone: 1.617.535.0200
New York, New York — Consulate General of Israel
800 Second Ave
New York, NY 10017 United States
Phone: 1.917.741.5755 (WhatsApp only)
Houston, Texas — Consulate General of Israel
24 Greenway Plaza, Suite 1500
Houston, TX 77046 United States
Phone: 1.832.301.3500
Disclaimer: The information contained in this article serves as a general overview of benefits and should only be used for informational purposes. Refer to your individual certificate of insurance for specific coverages, exclusions and benefits. When in doubt, please contact one of our licensed agents for additional assistance.