Travel Insurance for Norway
Last updated on 09/18/2023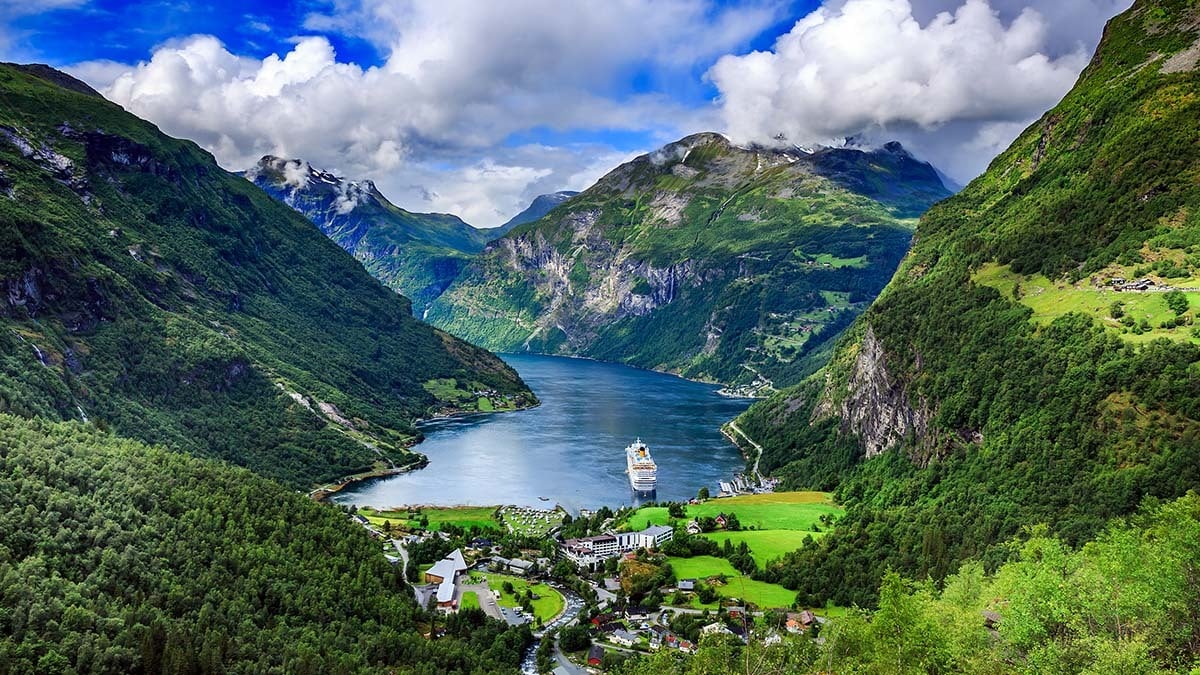 ---
---
Do I Need Travel Insurance for Norway?
Although U.S. citizens are not required to be covered by travel insurance for Norway, all visitors from certain countries must show proof of specific travel insurance coverage to enter the country. A great asset in many unforeseen situations, travel insurance can protect visitors to Norway in the event of unexpected injury or illness, travel delays, lost baggage, and other disruptions in a trip overseas.
Norway is a member of the Schengen Area in Europe, and travelers with coverage for a Schengen Visa will be able to remain protected and cross borders in any of the 26 nations within the Schengen Area.
How Much Does Norway Travel Insurance Cost?
The price of travel insurance for Norway varies with each trip and the unique concerns of the traveling party. Travel details such as the destination and duration of the trip usually play a part in how much travel insurance costs. As such, travelers going on a longer trip to Norway can often expect increased rates when compared to a shorter trip with similar levels of coverage. Additional factors such as the age and any pre-existing health conditions of the traveling party may also influence the price of a Norway trip insurance plan.
A variety of optional benefits are available for most travel insurance plans. When comparing travel insurance policies, InsureMyTrip recommends travelers consider their whole Norway itinerary and personal needs. For example, travelers concerned about cancellations may consider adding a benefit such as trip cancellation or Cancel For Any Reason to their travel insurance policy and insure the total prepaid, nonrefundable costs of their trip.
To review unbiased results tailored to your next trip, simply enter your trip details in the travel insurance quote form. From there, you may narrow results down further by your choice of criteria.
What Does Travel Health Insurance for Norway Cover?
Travel health insurance for Norway commonly includes coverage for emergency medical treatment, dental care, and emergency evacuation. These plans are variable, so additional benefits may be available to address a traveler's specific health or travel-related concerns.
For example, some travelers may consider adding coverage for a pre-existing health condition, which – if done at the right time – can be included at no extra cost with a waiver for the condition. For visitors planning to go mountain-climbing or skiing in Norway, travel insurance for adventurous activities is recommended. Without this benefit, some plans will exclude expenses for injuries related to high-risk activities. Coverage for concerns like lost baggage, transportation delays, vacation rental properties, and more may be offered alongside healthcare benefits in a comprehensive travel insurance plan for Norway. As with most insurance, these benefits do vary by plan, so be sure to review the details of your policy before purchasing.
Citizens of some countries may be asked to show proof of travel medical insurance that includes specific coverage in compliance with requirements from the Schengen Embassies. InsureMyTrip offers plans designed to meet these requirements, plus a letter of proof to submit to the Schengen Embassies.
It is important to note, most domestic health insurance policies will not provide coverage for unexpected medical bills incurred abroad, such as treatment at a Norwegian hospital. It's recommended to contact your domestic health insurance provider to determine if your coverage extends to medical events in Norway and where any gaps in international coverage may exist.
Does Travel Medical Insurance for Norway Cover COVID-19?
Some travel health insurance plans do offer protection for expenses related to COVID-19. As an extra measure, travelers who are concerned about the cancellation of a trip due to COVID-19 may consider the Cancel For Any Reason coverage. This benefit can provide assistance in certain situations even if the Norway travel protection plan does not explicitly include coronavirus coverage.
What is the Best Travel Insurance for Norway Trips?
Travelers often want to know about the best travel insurance for Norway. While some plans certainly offer more coverage than others, there is no single best travel insurance plan for any country. Buying international insurance for Norway can keep a traveler protected in a variety of unforeseen situations, and each trip and traveler may do well with its own unique set of benefits.
---
Travel Tips & Safety for Norway
Money & Currency Exchange
Norway's official currency is Norwegian krone (plural: kroner), also known as "crown." The krone's currency code is NOK, and travelers may see the symbol kr or Nkr to mark prices when shopping in Norway. As of 2022, most businesses in Norway are likely to accept credit and debit cards. In fact, some establishments won't accept cash at all, regardless of the currency. When paying with cash in Norway, locals and travelers will generally be expected to pay in Norwegian kroner. While most of your spending may be done with cards, it's best practice to also carry some cash — even a small amount — just in case. Some local vendors will prefer cash over card.
Money in Norway is available as both banknotes and coins. Coins come in values of 1, 5, 10, and 20 kroner, while banknotes come in values of 50, 100, 200, 500, and 1000 kroner. ATMs are available in most cities and towns. You may also be able to withdraw some cash at petrol stations or kiosks.
Transportation
Norway has a well-developed public transportation system that aims to connect the country's more remote locations to its major hubs and cities. Because this project is a priority to the Norwegian government, travelers can typically expect public transportation routes to be able to reach almost any inhabited area in Norway. Trains and boats/ferries may provide some of the most picturesque views of the country while you're traveling. For longer distances, domestic flights are another great option – Norway is dotted with domestic airports, even in remote areas. In some cases, it may be possible for travelers to rent a car in Norway. Keep in mind that drivers in Norway are generally mindful and will expect you to behave similarly while on the road.
The most affordable option is usually the bus. Norway's buses reach most parts of the country, including airports, ferry ports, train stations, and more. Because the bus is so popular in Norway, it's advisable to purchase your bus tickets in advance if you already know where you want to go.
Risk & Crime
Due to its low crime rate, Norway is considered a safe country to visit. Pickpockets operate all over the world but can generally be avoided if you keep your belongings hidden and out of reach at all times. The main risks involved in visiting Norway relate to nature. If you're planning to visit glacier fronts, big waves, waterfalls, or Svalbard, it's recommended to go with a knowledgeable guide, take all necessary precautions seriously, and avoid getting too close to large ice formations and sources of water. Norway has historically seen natural disasters including strong winds, snowstorms, avalanches, and occasional earthquakes, which may cause floods, tsunamis, or landslides. Keep an eye on local weather or news outlets before and during your trip for the most up-to-date local information. If visiting cities, keep in mind that cities are safest during the day and in well-lit, populous areas. Some regions are riskier to visit than others. No matter where you are, avoid going out at night whenever possible.
---
Top 15 Travel Destinations & Tourist Attractions in Norway
Bergen
Lofoten Islands
Jotunheimen National Park
Oslo
Geirangerfjord
Ålesund
Tromsø
Svalbard
Bodø
Sognefjord
Trondheim
Stavanger
Preikestolen (Pulpit Rock)
Røros
Alta
---
U.S. / Norway Embassy and Consulate Locations
U.S. Embassy in Norway
U.S. Embassy Oslo
Morgedalsvegen 36
0378 Oslo, Norway
Phone: 47.2130.8540
Norwegian Embassy and Consulate in USA
Washington DC — Norwegian Embassy
2720 34th Street NW
Washington DC 20008 United States
Phone: 1.202.333.6000
Anchorage, Alaska — Royal Norwegian Consulate
406 G St, Ste 207
Anchorage, AK 99501 United States
Phone: 1.907.440.5473
Scottsdale, Arizona — Honorary Consulate of Norway
10575 N. 114th Street. Suite 103
Scottsdale, AZ 85259 United States
Phone: 1.480.788.7479
Los Angeles, California — Norwegian Consulate General
11766 Wilshire Boulevard, Suite 270
Los Angeles, CA 90025 United States
Phone: 1.310.444.7750
San Diego, California — Norwegian Consulate General
1940 Garnet Avenue, Suite 300
San Diego, CA 92109 United States
Phone: 1.858.273.5400
San Francisco, California — Norwegian Consulate General
575 Market Street, Suite 3950
San Francisco, CA 94105 United States
Phone: 1.415.882.2000
Miami, Florida — Honorary Consulate of Norway
806 South Douglas Rd, Suite 580
Coral Gables, FL 33134 United States
Phone: 1.305.358.4386
Tampa, Florida — Honorary Consulate of Norway
202 South Rome Avenue, Suite 200
Tampa, FL 33606 United States
Phone: 1.813.247.4432
Atlanta, Georgia — Honorary Consulate of Norway
One Securities Centre
3490 Piedmont Road, N.E. Suite 1400
Atlanta, GA 30305 United States
Phone: 1.404.220.9938
Honolulu, Hawaii — Honorary Consulate of Norway
949 Wainiha Street
Honolulu, HI 96825 United States
Phone: 1.808.396.9484
Des Moines, Iowa — Honorary Norwegian Consulate
666 Walnut, Suite 2000
Des Moines, IA 50309 United States
Phone: 1.515.283.4628
Boston, Massachusetts — Norway Honorary Consulate
160 State Street, 8th Floor
Boston, MA 02109 United States
Phone: 1.617.849.8556
Minneapolis, Minnesota — Honorary Consulate General of Norway
901 Marquette Ave. S, Suite 2750
Minneapolis, MN 55402 United States
Phone: 1.612.332.3338
Omaha, Nebraska — Honorary Consulate of Norway
10330 Regency Pkwy Dr, Suite 100
Omaha, NE 68114 United States
Phone: 1.402.390.7104
New York, New York — Norwegian Consulate General
825 Third Avenue, 38th Floor
New York, NY 10022 United States
Phone: 1.646.430.7500
Tulsa, Oklahoma — Royal Norwegian Consulate
2431 E 61st St, Suite 600
Tulsa, OK 74136 United States
Phone: 1.918.744.5222
Philadelphia, Pennsylvania — Honorary Consul of the Kingdom of Norway
190 N Independence Mall W, Ste 500
Philadelphia, PA 19106 United States
Phone: 1.215.351.7925
Charleston, South Carolina — Honorary Consulate of Norway
198 East Bay Street, Suite 101
Charleston, SC 29401 United States
Phone: 1.843.224.8404
Houston, Texas — Honorary Norwegian Consulate
3410 West Dallas Street
Houston, TX 77019 United States
Phone: 1.713.620.4200
Park City, Utah — Norwegian Honorary Consulate
3120 Daybreaker Drive
Park City, UT 84098 United States
Phone: 1.801.649.7680
Norfolk, Virginia — Honorary Norwegian Consulate
201 East City Hall Avenue
Norfolk, VA 23510 United States
Phone: 1.757.457.8330
Everett, Washington — Royal Norwegian Consulate
1812 Hewitt Avenue, Suite 211
Everett, Washington 98201 United States
Phone: 1.425.337.5175
New York, New York — Permanent Mission of Norway to the United Nations
1 Dag Hammarskjöld Plaza #35
New York, NY 10017 United States
Phone: 1.646.430.7510
Disclaimer: The information contained in this article serves as a general overview of benefits and should only be used for informational purposes. Refer to your individual certificate of insurance for specific coverages, exclusions, and benefits. When in doubt, please contact one of our licensed agents for additional assistance.