Travel Insurance for Belgium
Last updated on 06/16/2023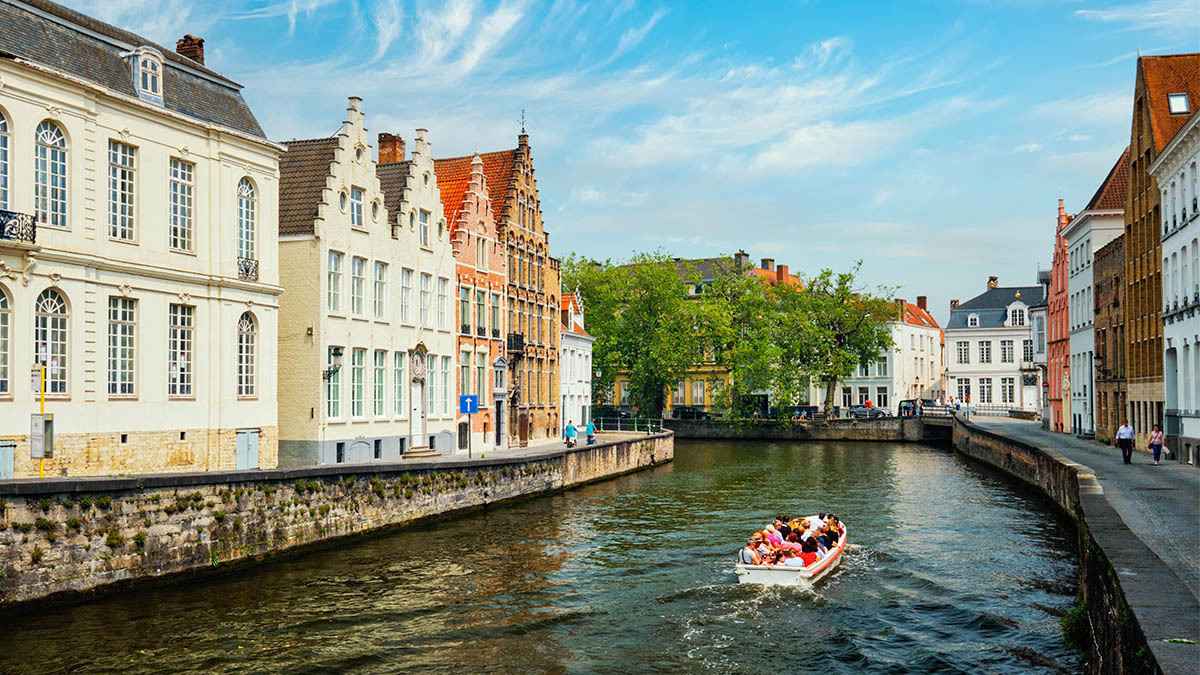 ---
---
Do I Need Travel Insurance for Belgium?
Travel insurance for Belgium is mandatory for some visitors and recommended for all. While optional for U.S. citizens, Belgium does require all visitors from certain countries to show proof of specific travel insurance. This mandatory travel insurance coverage must include:
Minimum of $50,000 in Medical Emergency/Hospitalization Coverage
Minimum of $300,000 of Medical Evacuation/Repatriation Coverage
$0 Deductible
The company providing this coverage has offices located in Europe
As part of the Schengen Area, Belgium's travel insurance requirements are identical to the other member countries of the Schengen Area. Obtaining Schengen Visa travel insurance will allow freedom of movement plus travel insurance coverage for travelers within all 26 Schengen Area nations.
Although Belgium and the Schengen Area only require travel medical insurance with coverage for emergency medical treatment and evacuation, a policy with travel-related benefits is highly recommended for all travelers. Depending on the plan, benefits may include coverage for travel interruptions, weather-related delays, luggage loss or damage, and much more.
How Much Does Belgium Travel Insurance Cost?
The price of travel insurance for Belgium is largely determined by the type of coverage, duration of the trip, number of travelers, and age of the traveler(s).
The addition of more benefits or higher coverage limits generally comes with a higher price. In some cases, travelers concerned about cancellations may want to insure the total cost of their trip, which can further increase the cost of Belgium travel insurance, but may prove to be worth it in the event of a cancellation not otherwise covered. Cancel For Any Reason (CFAR) provides travelers with the most flexibility when a trip must be cancelled, and is often able to reimburse travelers for up to 75% of their total nonrefundable trip cost.
What Does Travel Health Insurance for Belgium Cover?
Most Belgium travel protection plans include medical benefits to assist travelers who become sick or injured during their stay. Travel medical insurance for Belgium covers visits to foreign doctors, hospital stays, and other circumstances depending on the details of your plan.
Travelers may choose to include common coverages in their medical plan, such as:
Pre-existing conditions: A traveler may obtain a waiver for an existing condition to ensure overseas coverage related to the condition. Without the waiver and appropriate coverage, some travel medical plans may not be able to assist with expenses related to pre-existing medical conditions.
Trip cancellation: An accidental injury or extreme sickness renders a traveler unable to continue with the trip and the traveler must return home.
Cancel For Any Reason (CFAR): Travelers concerned about cancellations due to COVID-19 or other events which may not be covered by the trip cancellation benefit may consider the CFAR benefit, which can reimburse travelers for up to 75% of the total cost of their trip to Belgium. CFAR has certain eligibility requirements, so not all travelers will qualify for this benefit.
High Risk Activities: International visitors are often attracted to Belgium's Ardennes mountains for excursions like hiking and mountain biking, but injuries from high-risk activities may not be covered by all travel insurance plans. A hazardous sports rider can ensure that accidents during risky, otherwise uncovered activities are insured by your Belgium trip insurance policy.
Many of these medical benefits are available in comprehensive plans which include travel-related coverage options that medical plans may not have. Comprehensive travel insurance for Belgium may include health- and travel-related coverages such as the above medical benefits in addition to selections related to luggage loss, rental cars, delays, and more.
What is the Best Travel Insurance for Belgium Trips?
As each traveler has specific concerns about their own health or travel details, no single travel insurance plan will be ideal for every traveler. InsureMyTrip recommends travelers to compare plans and providers best suited for them based on the details of their specific trip. Start a quote to begin comparing plans to find the right plan for your next trip to Belgium.
---
Travel Tips & Safety for Belgium
Money & Currency Exchange
Belgium and 18 other countries in the European Union share a common currency: the Euro. The Euro's currency code is EUR, and you'll see prices denoted by the symbol € when paying for services or shopping in Belgium. Each Euro can be divided into 100 cents. The Euro is available as both banknotes and coins, with banknotes valued at €5, €10, €20, €50, €100, €200, and €500 and coins valued at 1c, 2c, 5c, 10c, 20c, 50c, €1, and €2. It should be noted that the 1 and 2 cent coins are rarely used in Belgium, but the remainder of these coins are particularly useful for paying to use public restrooms, storage lockers at museums and other tourist hot spots, tipping, and more. ATMs are found all over towns and cities and accept major credit cards. And yes, you can use credit cards in Belgium. If you pay with card and are prompted to choose between paying in Euro or your home currency, you'll generally avoid hidden fees and get the better deal by choosing to pay in Euros. As for cash, clean and undamaged bills from your home country can be exchanged into Euros using an ATM or money exchange service. Most money exchange services offer different rates, so if you want the best rates, check out the global exchange rate and shop around between money exchangers before making your trade.
Transportation
While travelers are allowed to rent cars in Belgium, in most cases it's often easier (and faster) to skip the traffic and use public transportation. Most of Belgium is connected by modern and efficient public transportation systems, including taxis, railways, buses, and metro. The ride-sharing app Uber is also quite popular in Belgium and a great option for those who want to see the exact price of their ride before getting in the vehicle. Regular taxis are regulated by the government and operate on meters, so you won't need to worry about taxi drivers tampering with the fare in Belgium. Locals and visitors generally use Belgium's train systems to get between major destinations. In some cases, children under 12 years old can ride Belgium's trains for free if they're traveling with a guardian over 12. Buses often provide shorter rides, for example routes from one train station to another. Finally, the Brussels-exclusive metro offers possibly the fastest transportation method in Belgium.
If you plan to use public transportation in Belgium, one of the best tools to help save you time would be the MOBIB (Mobility in Belgium) card. The MOBIB card is designed to help commuters pay for various costs related to transportation in Belgium — anything from train tickets and bus fare to parking fees when driving your own car.
Risk & Crime
Belgium is a relatively safe destination to visit, with clean and reliable public spaces. However, petty theft and pickpocketing are somewhat common in Belgium, so keep an eye on your personal belongings and hide them from public view whenever possible. It's best practice to dress modestly, keep phones and cameras put away, and stay in well-lit, lively places to lessen the chance of pickpocketing. Be vigilant while on public transportation and in crowds. Additionally, the U.S. State Department warns of a risk of terrorist activity in Belgium. Public spaces may become targets of terrorist activity with little to no warning. Always stay aware of your surroundings and monitor local media for breaking events. Historically, Belgium has seen earthquakes and flooding, but the overall risk of natural disaster in Belgium is low.
---
Top 15 Travel Destinations & Tourist Attractions in Belgium
Brussels
Antwerp
Ghent
Bruges
Mons
Leuven
Namur
Spa
Ardennes
Bastogne
Hoge Kempen National Park
Dinant
Liège
Mechelen
Durbuy
---
U.S. / Belgium Embassy and Consulate Locations
U.S. Embassy in Belgium
U.S. Embassy in Brussels, Belgium
Regentlaan 27 Boulevard du Régent
B-1000 Brussels
Phone: 32.2.811.4000
Belgian Embassy and Consulate in USA
Washington DC – Belgian Embassy
3330 Garfield Street NW
Washington DC 20008 United States
Phone: 1.202.333.6900
Los Angeles, California – Belgian Consulate General
6100 Wilshire Boulevard, Suite 1200
Los Angeles, CA 90048 United States
Phone: 1.323.857.1244
Atlanta, Georgia – Belgian Consulate General
230 Peachtree Street NW, Suite 2710
Atlanta, GA 30303 United States
Phone: 1.404.659.2150
New York, New York – Belgian Consulate General
1065 Avenue of the Americas, 22nd Floor
New York, NY 10018 United States
Phone: 1.212.586.5110
Phoenix, Arizona – Honorary Consulate of Belgium
President National Portfolio, Inc
2944 North 44th Street, Suite 200
Phoenix, AZ 85018 United States
Phone: 1.602.852.3870
San Francisco, California – Honorary Consulate of Belgium
155 Montgomery Street, Suite 901
San Francisco, CA 94104 United States
Phone: 1.415.295.4850
Dever, Colorado – Honorary Consulate of Belgium
Schuchat, Herzorg & Brenman
1900 Wazee Street, Suite 300
Denver, CO 80202 United States
Phone: 1.303.530.4436
Greenwich, Connecticut – Honorary Consulate of Belgium
65 Locust Avenue, Suite 200
Greenwich, CT 06831 United States
Phone: 1.203.629.6500
Miami, Florida – Honorary Consulate of Belgium
990 Biscayne Blvd, Office #701
Miami, FL 33132 United States
Phone: 1.305.600-0982 / 1.305.318.9788
Honolulu, Hawaii – Honorary Consulate of Belgium
600 Ocean View Center
707 Richards Street
Honolulu, HI 96813 United States
Phone: 1.808.533.3999
Chicago, Illinois – Honorary Consulate of Belgium
c/o John B. Sanfilippo & Son, Inc
1703 North Randall Road
Elgin, IL 60123 United States
Phone: 1.847.214.4670
New Orleans, Louisiana – Honorary Consulate of Belgium
Adams & Reese LLP
4500 One Shell Square
New Orleans, LA 70139-4596 United States
Phone: 1.504.585.0151
Baltimore, Maryland – Honorary Consulate of Belgium
c/o John S. Connor, Inc.
799 Cromwell Park Drive, Suite A
Glen Burnie, MD 21061 United States
Phone: 1.410.863.0211
Boston, Massachusetts – Honorary Consulate of Belgium
22 Hudson Rd
Lexington, MA 02111 United States
Phone: 1.617.779.8700
Detroit, Michigan – Honorary Consulate of Belgium
30 Edgemere Road
Grosse Point Farms
Detroit, MI 48236 United States
Minneapolis, Minnesota – Honorary Consulate of Belgium
283 South Mississippi River Blvd.
Saint Paul, MN 55105 United States
Phone: 1.651.699.2528
St. Louis, Missouri – Honorary Consulate of Belgium
9 West Pine Court
Saint Louis, MO 63108 United States
Phone: 314.6166.3473
Lawrence, New York – Honorary Consulate of Belgium
41 Causeway
Lawrence, NY 11559 United States
Phone: 1.516.371.2323
Cincinnati, Ohio – Honorary Consulate of Belgium
c/o Thompson Hine
312 Walnut Street, Suite 1400
Cincinnati, OH 45202-4089 United States
Phone: 1.513.352.6658
Philadelphia, Pennsylvania – Honorary Consulate of Belgium
Morgan, Lewis & Bockius LLP
1701 Market Street
Philadelphia, Pennsylvania 19103 United States
Phone: 1.215.963.5092
Pittsburgh, Pennsylvania – Honorary Consulate of Belgium
c/o The Lackner Group Inc
Carnegie Office Park IV, Suite 290
800 North Bell Avenue
Pittsburgh, Pennsylvania 15106 United States
Phone: 1.412.279.2121
Dallas, Texas – Honorary Consulate of Belgium
2525 East Southlake Boulevard, Suite B
Southlake, TX 76092 United States
Phone: 1.817.748.4367
Houston, Texas – Honorary Consulate of Belgium
2406 Cutter Court
Seabrook, TX 77586 United States
Phone: 1.770.402.4988
Salt Lake City, Utah – Honorary Consulate of Belgium
2310 S. Constitution Blvd
Salt Lake City, UT 84119 United States
Phone: 1.801.541.3885
Virginia Beach, Virginia – Honorary Consulate of Belgium
1023 Laskin Road K
Virginia Beach, VA 23451 United States
Phone: 1.757.270.8275
Seattle, Washington – Honorary Consulate of Belgium
The World Trade Center, Suite 470
2200 Alaska Way
Seattle, WA 98121 United States
Phone: 1.206.728.5145
Milwaukee, Wisconsin – Honorary Consulate of Belgium
c/o SmithAmundsen LLC
330 East Kilbourn Ave., Suite 1100 Tower 1
Milwaukee, WI 53202 United States
Phone: 1.414.847.6154
New York, New York – Belgian Permanent Mission to the UN
One Dag Hammarskjöld Plaza, 41st floor
885 East 47th Street
New York, NY 10017 United States
Phone: 1.212.378.6300
Disclaimer: The information contained in this article serves as a general overview of benefits and should only be used for informational purposes. Refer to your individual certificate of insurance for specific coverages, exclusions, and benefits. When in doubt, please contact one of our licensed agents for additional assistance.