Travel Insurance for Puerto Rico
Last updated on 05/26/2023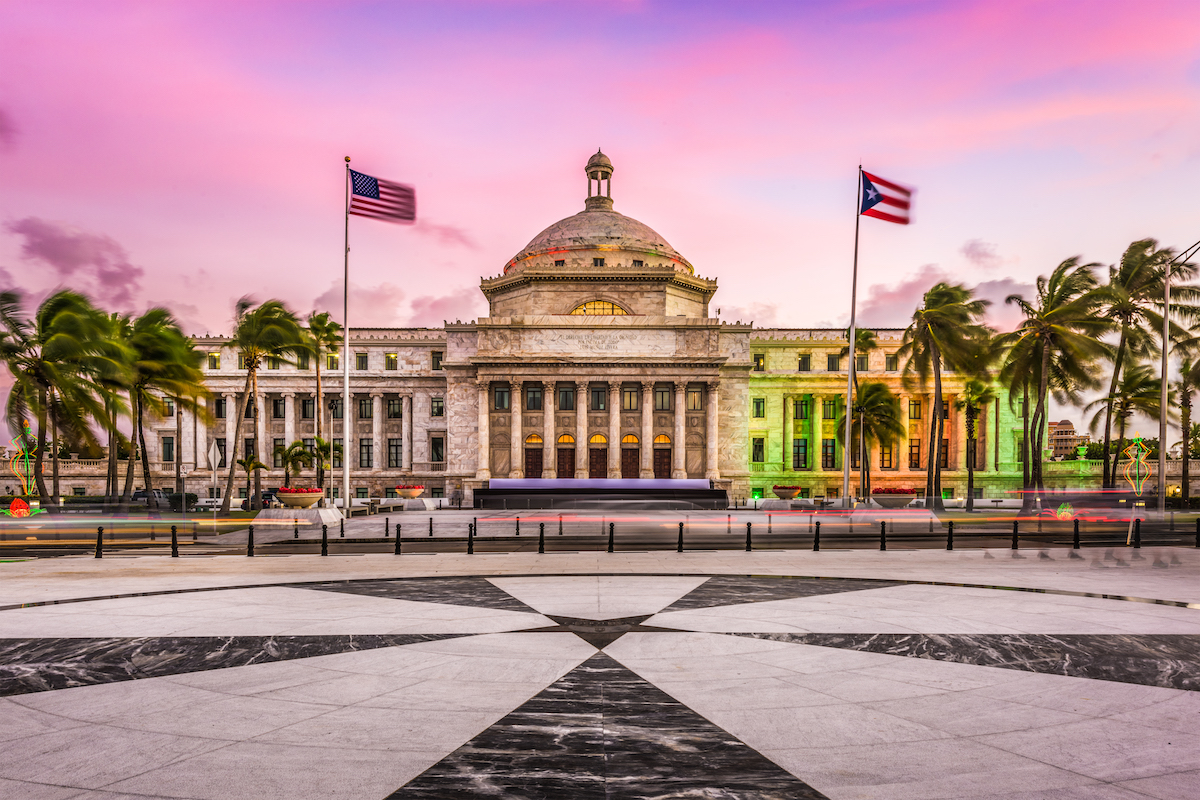 ---
---
Do I Need Travel Insurance for Puerto Rico?
While travel insurance is not required for Puerto Rico, purchasing coverage is highly recommended for those visiting the territory. Unexpected illness, injury, baggage loss or damage, weather and travel delays are just some of the reasons travelers buy Puerto Rico travel insurance plans.
Purchasing travel protection for a trip to Puerto Rico is also a good idea since the area is frequently affected by hurricanes and earthquakes. For the best coverage options, travelers should buy a plan as soon as possible after making their initial trip payment. For example, trip cancellation and cancel for any reason (CFAR), which allow travelers to end a trip early or cancel it altogether, are time-sensitive coverage options. Both require specific criteria to ensure coverage.
Does Domestic Health Insurance or Medicare Cover Puerto Rico Travel?
In some cases, a domestic health insurance plan may cover health care while visiting Puerto Rico due to its U.S. territorial status, but coverage usually depends on the specific policy and may be limited. For example, a Medicare plan covers many common health care needs in Puerto Rico, but serious injuries or illnesses that require medical evacuation are unlikely to be covered. For this reason, many travelers consider travel health plans.
While health concerns are top of mind for many vacationers headed to Puerto Rico, there are some additional reasons U.S. and non-U.S. citizens may want to consider purchasing a plan. Traveling to the island typically involves either boarding a flight or a cruise. Neither mode of transportation is immune to unexpected travel delays or disruptions caused by baggage delay or loss, mechanical issues, or unforeseen weather. Many of these scenarios are covered by comprehensive travel insurance plans. Travelers may be able to address all of their concerns with a comprehensive plan depending on the provider and plan details.
How Much is Travel Insurance for Puerto Rico?
If you're wondering how much travel insurance for Puerto Rico will cost, you're not alone. This is one of the most common questions from our customers. The cost of a travel insurance plan varies based on several important factors. These include the number of travelers in your group, their ages, the length of the trip, and the specific type of coverage.
In general, the lower the risk, the lower the premium and vice versa. Simply put, coverage for a one-week trip will usually cost less than coverage for a month-long trip. Similarly, older travelers, especially those with medical issues and pre-existing conditions, may pay a little more for coverage than younger travelers. In some instances, travelers can also opt to insure their trip cost, which can also influence the final price of the travel protection plan.
Do I Need a Passport for Puerto Rico?
No, passports are not required for U.S. citizens when traveling to Puerto Rico since it is a territory of the United States. However, U.S. citizens will still need to provide an accepted form of government-approved identification upon entry.
Americans traveling to Puerto Rico should keep in mind that in late 2020 Real ID will be required, even for domestic flights.
Non-U.S. citizens and non-permanent U.S. residents will need a valid passport with more than six months until its expiration at the time of entering Puerto Rico.
Do I Need a Visa for Puerto Rico?
Similar to passport requirements, U.S. citizens and permanent residents are not required to obtain visas for travel to Puerto Rico if the trip lasts less than 90 days and the purpose is transit, sightseeing, or business.
Citizens and residents of other countries are subject to the same visa requirements for Puerto Rico as they would be when entering the United States. Visa applications can take a bit of time to process and requirements may change, travelers coming from outside the U.S. are advised to check with their local consulate or embassy well in advance of their trip for the most current information.
---
Travel Tips & Safety for Puerto Rico
Money & Currency Exchange
Since Puerto Rico is an unincorporated territory of the United States, the currency used is the United States Dollar (USD). Travelers should note that Puerto Ricans often refer to the U.S. Dollar as the "peso" (not to be confused with the currency of Mexico) or "dolar." The dollar breaks down into 100 cents, which Puerto Ricans call "centavos" or "chavitos." Nickels (5 cent pieces) are known by locals as "ficha" or "vellons." while quarters (25 cent pieces) are called "pesetas."
Some tourist spots and businesses will accept Canadian dollars (CAD) but travelers from Canada are encouraged to exchange CAD for local currency since most locations require USD. Currency can be exchanged at larger airports and banks. ATMs also provide a good option for withdrawals while abroad. However, travelers should research any fees associated with withdrawals and currency exchanges.
One additional note to keep in mind when visiting Puerto Rico is that hotels typically charge a 9% tax on rooms, specialty casino hotels charge 11%, and inns charge 7%. These additional hospitality taxes can be surprising, so make sure to budget for them when planning your vacation or business trip.
Tipping is common in Puerto Rico and is usually about 15% of the bill. This is another reason it's a good idea to keep at least some cash in USD with you.
Transportation
Puerto Rico's transportation system features a variety of options that allow travelers to get around the island easily. Whether you arrived on an airplane or a cruise ship, you'll likely call a taxi cab or board a privately owned shuttle called a público to get to your accommodations. Taxis tend to be a little more expensive but offer direct service for short trips, while a público may take longer but will travel to destinations that are much further away. If you're looking to save even more money on transportation, consider using guaguas, or public buses. Renting a car offers yet another option for travelers, especially Americans who already have a valid driver's license. This is more expensive than the other options mentioned but allows for more comfort and independence. Just be sure to get a trip protection plan that includes coverage for rental cars to make sure you are covered in case of an accident, theft, or other mishap.
Additional modes of transportation in Puerto Rico include trains, ferries, and charter planes. Train service ranges from city-based rail systems, like the Tren Urbano in San Juan, to classic tourist train tours. Ferries travel between various ports around the island and offer travelers a great way to view the coastline from the sea. Visitors to Puerto Rico should keep in mind that ferries able to accommodate cars are less reliable. If you're willing to spend a little more for a bird's eye view of the island, then booking a flight on a charter plane can be a great option. Local airlines include Air Flemenco, Cape Air, and Vieques Air Link.
Culture
History has played an important role in the culture of Puerto Rico. Puerto Ricans are descendants of not only the Spanish conquistadors, but also indigenous Taíno people and several African groups. Of course, the island's close relationship with the United States has also influenced the area. This blend of cultures is unique to Puerto Rico and permeates art, music, traditions, and cuisine. As a result, Puerto Ricans are commonly lauded for their welcoming hospitality, vibrant artwork, flavorful food, and exciting music and dance. Visitors are encouraged to explore historical sites, try cocina criolla-inspired foods, hit the dance clubs, and socialize with the locals to get a better understanding of Puerto Rican culture.
Speaking the Language
The official languages of Puerto Rico are Spanish and English, but Spanish is spoken much more widely than English. This is true even for most of the judiciary system, despite an over 100-year-old law that mandates the use of English. English is the primary language of less than 10% of the Puerto Rican population, so it's no surprise that Spanish is used almost exclusively for education, business and daily life.
Similar to other Spanish-speaking countries, Puerto Rico has its own "flavor" of Spanish that includes many colloquialisms. The language is influenced by Taíno words, English words, and even some West African words. This is important to keep in mind if you plan to learn Spanish before traveling to Puerto Rico.
Risk & Crime
Puerto Rico is generally considered a safe travel destination, but like any place, some areas experience higher crime rates than others. By far, the largest concern for travelers is theft, which includes pickpocketing and carjacking. Pickpockets tend to target tourist hotspots and public transportation, so those visiting Puerto Rico should stay vigilant and aware of their surroundings. Avoid carrying large amounts of cash, storing valuables in your car, and walking alone, especially at night. Consider a money belt or a fake wallet and be sure to keep your cash divided up a few places on your person. This way you won't lose everything in the event of a robbery. Travel scams are also more common in urban areas, so be on the lookout for taxi drivers overcharging and credit card skimming. However, most travelers to Puerto Rico do not experience these issues.
What may be surprising for some people planning a trip to Puerto Rico is that nature can pose significant safety risks. For example, if you plan to go to the beach for a swim, make sure to pay attention to any warning signs posted in the area. Some signs warn of strong rip currents while others point out dangerous wildlife activity. Run-ins with wildlife are rare, but being aware of these threats is the best way to minimize your risk. Similarly, the island's proximity to the equator means that the sun is strong. Travelers can avoid heat exhaustion and sunburns by packing high SPF sunscreen and staying hydrated.
Puerto Rico is located in the Caribbean, which means hurricanes, earthquakes, volcanic eruptions, tsunamis, and flash floods may affect the island. In general, these natural disasters are rare but Puerto Rico has experienced increased hurricane and earthquake activity more recently. Travelers can plan ahead by purchasing the right coverage for their trips.
---
Popular Destinations in Puerto Rico
Puerto Rico is primarily mountainous with expansive coastal regions on the north and south sides of the island. The diverse terrain ensures every traveler can find enjoyable activities from hiking park trails to sailing along the coastline to swimming at the beach. Puerto Rico's vibrant culture and unique history also makes the island popular among history buffs, music fans, and art enthusiasts. Your perfect Puerto Rico trip itinerary will depend on the types of activities you enjoy and the places you want to see. No matter what you choose to do on your Puerto Rican vacation, be sure to take travel time into account and plan ahead. It's difficult to do everything on a trip, so we've compiled a "best-of" list for popular tourist attractions and destinations in Puerto Rico to help you maximize your time on the island.
Top 15 Travel Destinations for Puerto Rico
El Yunque National Forest
Ponce (Including Museo de Arte de Ponce)
Parque de las Cavernas del Río Camuy (Rio Camuy Caves)
San Juan (Including San Juan Viejo & Santurce)
Isla Culebra (Including Playa Flamenco)
Vieques (Including Puerto Mosquito Bioluminescent Bay & Sun Bay)
Balneario de Carolina (Carolina Beach)
Castillo San Felipe del Morro
Rincón
Observatorio de Arecibo (Arecibo Radio Telescope)
Playita del Condado (Condado Beach)
Guánica State Forest
Balneario de Luquillo (Luquillo Beach)
Castillo San Cristóbal
Cayo Santiago (Santiago Island)
Disclaimer: The information contained in this article serves as a general overview of benefits and should only be used for informational purposes. Refer to your individual certificate of insurance for specific coverages, exclusions, and benefits. When in doubt, please contact one of our licensed agents for additional assistance.