Best Destinations for Golf Trips
Last updated on 06/03/2021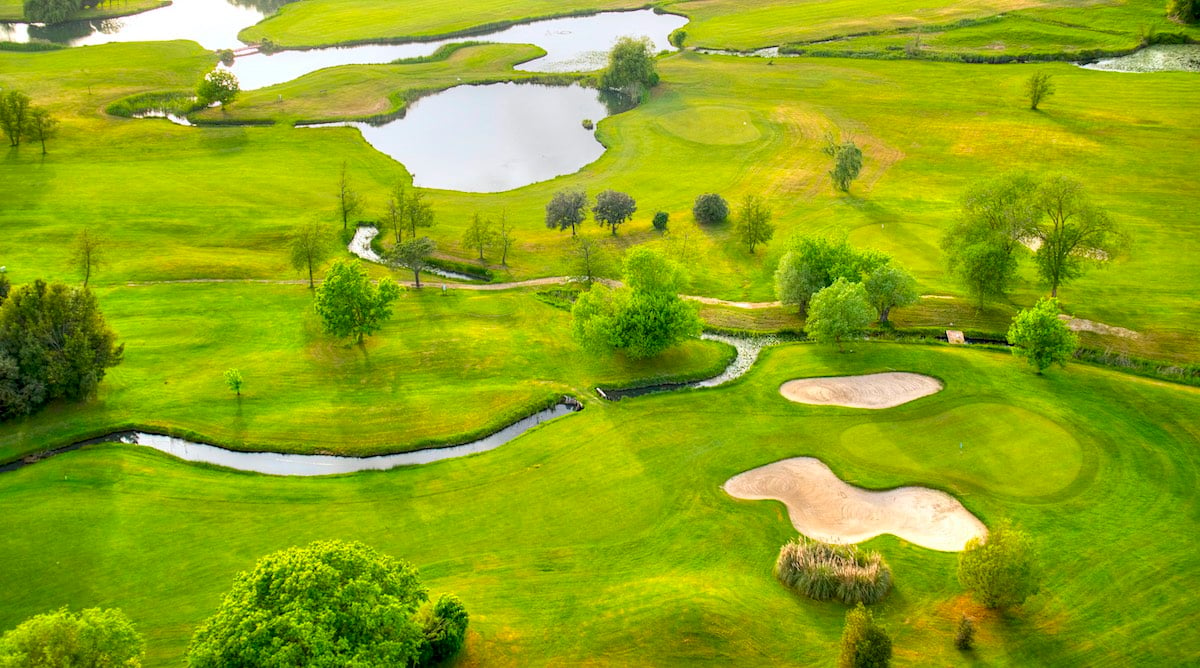 Top Travel Destinations for Golfing
Golfing is one of the most popular activities for those relaxing while on vacation, and it got us thinking – where are the best travel destinations to go golfing? If you're looking to bring your clubs on your next vacation or weekend getaway, take a look at our "best-of" list. You'll find the best golf trip destinations for both domestic and international locations, so you can start planning your golfing getaway close to home or overseas.
Best Domestic Travel Destinations for Golf Trips
The United States has no shortage of top-notch golf courses, many of which host major tournaments and events. California and Florida are both highly regarded for the quality and quantity of golf courses. Other oceanside golf destinations in the U.S. include Hawaii, Georgia, and the Carolinas. While these locations have a strong golf history, there are some other more surprising destinations that make the list, such as Arizona, Wisconsin and Michigan. So whether you're planning your domestic golf trip for the spring, summer, or fall, you'll have plenty of U.S. options to choose from.
Monterey, California
Monterey is home to Pebble Beach Links, which is arguably the most popular course in the area. That said, the Monterey Peninsula is also home to several other brilliant golf courses along the beautiful coastline, including The Links at Spanish Bay, Spyglass Hill Golf Course, Pasatiempo Golf Club, Poppy Hills Golf Club, Carmel Valley Ranch Golf Course, Bayonet & Blackhorse Golf Club, and Del Monte Golf Club. The area is known for hosting golf champions frequently among its many picturesque and challenging courses. If you want to play like the champions in the Masters, with a beautiful ocean backdrop, Monterey is a must.
Oregon Coast
Up the western seaboard from Monterey is the Oregon Coast, which is also home to many state-of-the-art golf courses. From the lustrous greens at Bandon Dunes to the perfectly manicured fairways of Florence Golf Links, there is something for every vacationing golfer. Other popular courses in the area include Pacific Dunes, Ocean Dunes Golf Links, Bandon Crossings, Salmon Run Golf Course, and The Highlands Golf Club as well as the recently opened Sheep Ranch.
Phoenix, Arizona
If you are looking for something a little different, the dry heat, challenge courses, and pristine groundskeeping of the greater Phoenix area may be for you. Between Phoenix and Scottsdale, there are over 200 courses to choose from, including the famous Arizona Biltmore which features two PGA Championship courses. Other popular golf spots include Troon North, We Ko Pa, Quintero Golf Club, Wickenburg Ranch Golf & Social Club, Ak-Chin Southern Dunes, TPC Scottsdale, The Boulders Resort, Papago Golf Course, and The Raven Golf Club at South Mountain. Best of all, the mix of public and private courses allows travelers to find one course that fits their budget.
The Carolinas
For an island getaway with golf as a number one pass time, Hilton Head is the perfect vacationing golfer's destination. There are 23 championship courses in the area alone, and the combination of public and private clubs ensures travelers have lots of options no matter their skill level or budget. You'll find excellent resorts, beautiful panoramic views of the Atlantic Ocean and an endless supply of relaxation. Palmetto Dunes and The Sea Pines Resorts are favorites among avid golfers. Outside of Hilton Head, visitors to both North and South Carolina have lots of options, including Pinehurst, Linville Golf Club, Old North State Club, Grove Park Golf, and Tidewater.
Savannah, Georgia
Nearby Hilton Head is Savannah, Georgia, which also has a rich golf history with many courses to choose from, like the Club at Savannah Harbor and Crosswinds. Additional course options include Augusta National Golf Club, Peachtree, East Lake, Atlanta Athletic Club (Highlands), Ocean Forest, and Sea Island Golf Club (Seaside).
Palm Beach, Florida
Just down the eastern coast from Georgia and the Carolinas is Palm Beach, Florida. The area is home to 100 courses within 20 miles, and the variety of public and private options makes it easy for visitors to the area to find the right course. If you're looking for a great golf retreat or a little relaxing sport on your next vacation, West Palm Beach has the course for you. From PGA tour courses to the dazzling greens at Ocean Course at the Breakers. These courses aren't for the budget golfer, but they sure are rewarding to play. Palm Beach Par-3 is a municipal course, which is perfect for vacationers.
Wisconsin - Kohler, Sand Valley, & Green Lake
Many new golfers are surprised to hear that Wisconsin offers some of the best travel destinations for domestic golfers. The state is home to Kohler, Sand Valley, and Green Lake. Kohler is a top choice for golf vacations simply because there are four resort courses located across two different sites. Whistling Straits (Straits Course) has been featured in the PGA Championship, but if you're looking for a more relaxed option, the River Course at Blackwolf's Run is ideal. Sand Valley and Green Lake are both located in central Wisconsin and are adjacent to beautiful lakes. The unique designs and different approach to waterfront golfing make these areas top choices for golfers on vacation. Nearby Milwaukee also has several course options, like Erin Hills and Brown Deer Park, for those visiting the area.
Traverse City, Michigan
Across the lake from Milwaukee is Traverse City, Michigan. The area features over 30 public and championship golf courses. Bay Meadows Family Golf Course, Traverse City Country Club, and Interlochen Golf Course are among the top golf destinations in the area, but there is an option for every golfer no matter what skill level or budget constraints they may have. If you plan to travel to the upper Midwest for your next golf getaway, make sure to account for seasonality. Golf courses in the area are not open year-round as they are in some other areas, but they can be great options for those looking to avoid the summer heat or large crowds.
Hawaii
Like California and Florida, oceanside golfing is at its peak in Hawaii. The islands are home to many different courses popular among golf enthusiasts, but the most well-known include Nanea Golf Club, Francis H. I'i Brown Golf Club, the Plantation Course at Kapalua, and Wailea Golf Club. Planning your Hawaii golf trip will depend on which island or islands you plan to visit, but travelers will have plenty of scenic options for hitting the links.
Best International Travel Destinations for Golf Trips
For those looking to head overseas for a trip, there are plenty of great international destinations for golfers. Golf has its roots in Scotland, so there's no surprise that the country features some of the world's finest courses. Similarly, Ireland is home to some of the best golf courses, which are frequent spots for professional tournaments and competitions. Golf continues to grow in popularity "down under" as well, with Australia and New Zealand also ranking among the top countries in the world for golf courses.
Scotland
As we mentioned, Scotland is the birthplace of golf and the rich tradition of the sport prevails to this day. Perhaps the world's greatest course, St. Andrews (specifically Old Course), in Fife continues to be a "bucket-list" course among avid golfers. It's also a cool bit of history since it's recognized as the world's oldest. Scotland is also home to the Royal Dornoch Golf Club, Muirfield Golf Club, Kingsbarns Golf Links, North Berwick Golf Club, and Carnoustie Golf Links. As you might expect, the cost of a round of golf at some of these clubs can be high. However, since golf is so popular in the area, there are also a number of municipal courses that are more affordable for amateur players on vacation.
Northern Ireland
Northern Ireland has about 100 golf courses but a population of only around 2 million, so it's easy to see that the region takes the sport very seriously. Like Scotland, Northern Ireland golf courses date back hundreds of years. As a result, it's a top destination for vacationing golfers. Those looking to plan a golf trip to the area should check out Royal County Down, Royal Portrush, Portstewart, Castlerock, Lough Erne, and Belvoir Park.
Nova Scotia, Canada
While Canada has plenty of great spots to golf, the premier courses in the country are found in Nova Scotia. These courses feature cliffside golfing reminiscent of the classic courses found in the Scottish Highlands. Golfers headed to the area for vacation should consider checking out Cabot Links and Cabot Cliffs, Highlands Links, Fox Harb'r, Links at Brunello, and Digby Pines.
Australia
Like many top golf destinations, Australia's best courses dot the coastline. While Perth and the northern coast in Queensland have some great options, the vast majority of the top-rated courses are located in New South Wales, including the cities of Melbourne and Sydney. If you're planning a trip to Australia, consider hitting the links at Royal Melbourne, Kingston Heath, Barnbougle Dunes, New South Wales Golf Club, Cape Wickham, and Ellerston.
New Zealand
New Zealand is another great option for those looking for golf vacation destinations below the equator. The island nation is renowned for its beautiful landscapes, so it makes sense that it is also home to some of the world's top golf resorts and clubs. With nearly 400 total clubs with options on both the north and south islands, vacationing golfers have plenty of choices in New Zealand. Some of the most notable courses in the region include Tara Iti, Cape Kidnappers, Kinloch Club, Paraparaumu Beach, Kauri Cliffs, Jack's Point, and Arrowtown.
If you're planning to golf on your vacation or business trip, this list is a great jumping-off point but it's by no means exhaustive. There are new courses and existing clubs that are redeveloped by the golf industry's top designers regularly, so be on the lookout for new and exciting destinations that didn't make the cut.
Trip Insurance for Golf Vacations
Over the years, golf has gone from a leisurely pastime to a very competitive sport. For this reason, a round of golf at a premier course is likely to set you back a few dollars. If you're planning an entire vacation around the sport, you'll want to consider purchasing trip insurance to protect your investment. Travel insurance not only covers travel to and from your destination but may also cover baggage, including your prized clubs. Read about travel insurance coverage for golf trips to see how a plan could protect against the unexpected and help make sure your golf vacation goes off without a hitch.