Travel Insurance for Portugal
Last updated on 05/25/2023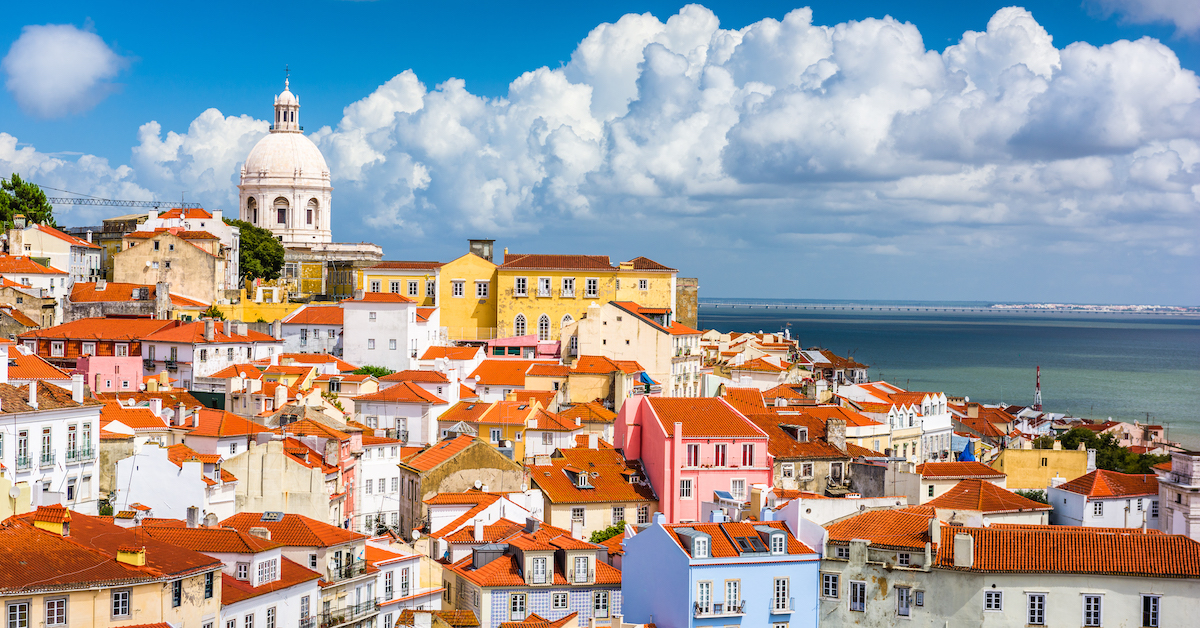 ---
---
Do I Need Travel Insurance for Portugal?
When planning a trip to walk Portugal's stunning rocky coast, to taste a Portuguese egg tart, or to bathe in fado music, travelers often ask, "Is travel insurance mandatory for Portugal?" Portugal is a Schengen country, meaning that some travelers will require specific travel insurance for their trip. Review Schengen Visa travel insurance options before embarking to Portugal. Though it may not be mandatory or required for all travelers, it is strongly recommended that travelers consider protecting their trip.
Every visitor has unique needs when traveling to Portugal and there are several benefits you may want to think about. For example, frequent flyers know that travel delays are all too common. Most comprehensive travel insurance plans can help protect against unexpected costs associated with travel delays, flight cancelation or even lost baggage. So, if you have already booked once-in-a-lifetime futebol game tickets to see Cristiano Ronaldo, several travel insurance providers offer plans to cover your investment to see the game. Those going to Portugal typically purchase travel insurance for their trip after reviewing quotes for the wide variety of plans and coverage options on InsureMyTrip. Travelers have unique needs when traveling to Portugal, and purchasing trip protection is one of the best ways to help plan for the unexpected.
Many tourists decide to purchase trip protection for medical coverage on their trip to Portugal. While primary health insurance plans may offer some coverage, travel medical plans can help fill in the gaps. If, for example, you can't make it up to one of the miradouros, or lookout spots, due to an unexpected illness or injury on your way up, travel health insurance may help ensure you're covered. Other travelers may have worries about a pre-existing condition impacting their trip. Some plans offer a pre-existing medical waiver for no additional charge. The waiver helps reimburse the cost of emergency medical treatment due to the pre-existing condition. Our licensed customer care reps are always here to help you find the right plan that offers the benefits and coverage you need for your trip to the Iberian Peninsula.
Our travelers from the U.S., Canada, and other parts of the world say Portugal is the perfect place to travel for business, for a couples getaway, or a cultural trip. Portugal is one of Europe's best destinations for a family vacation. If you travel with the kids, you're sure to be stopped by friendly locals on almost every street!
How Much is Travel Insurance to Portugal?
We often get asked about cheap travel insurance to Portugal. Finding the most cost-effective trip insurance option depends on the level of coverage and specific benefits you want. Some factors that impact the cost of your policy are the cost of prepaid travel expenses to Portugal, your party size, and what coverage you need. By comparing multiple plans, you can find a plan that fits your budget and your coverage needs. Fill out the quote form to the right of this page to easily have InsureMyTrip's SMART algorithm start the search for you. A free, personalized quote can help you identify the travel insurance options that work best for your Portugal trip and your budget.
What Do I Need to Travel to Portugal?
Some of the most frequently asked questions about Portugal trips are about Portugal's immigration requirements and what travelers need to travel to Portugal. While we recommend you protect your trip cost with travel insurance, or holiday insurance, there are also a few other things you will need to remember when going to Portugal. Before traveling to Portugal, you will need a current passport, meaning that your passport will not expire in six months or less while you travel. If you bought travel insurance for Portugal, we recommend you also bring your insurance policy documents in case you need to file a claim.
Do I Need a Visa for Portugal?
Portugal's visa requirements vary depending on your country of citizenship. Those with European Union passports will typically not need a visa to visit Portugal. Travelers with American, Canadian, or Australian issued passports can travel without a visa for 90 days. If you plan on an extended stay beyond 90 days, you can use a visa online application for Portugal. For more information on Portugal's tourist visa requirements, visit the country's official immigration website.
---
Portugal Travel Tips & Safety
Money & Currency
The form of currency that the Portuguese use is the euro (EUR), the official currency of the European Union. That means that you might have to exchange your native currency for euros when you arrive in Portugal. There are multiple ways you can exchange money in Portugal. You can exchange money through ATMs, known as Multibancos in Portugal, which can be identified by an MB symbol. Banks are another location where you may exchange currency. You can also exchange money at bureaux de change or automatic exchange machines.
The Portuguese customarily leave a tip of 5-10% when dining out or when riding in taxis. In restaurants, the tip is left in addition to the service charge on a bill.
Transportation
The cheapest way to travel in Portugal will depend on where you stay. For some travelers, flights are the best option, as Portugal has multiple international and domestic airports. For others, trains offer a discounted way to travel. The Portuguese railway company includes a vast rail network covering Portugal's mainland and even reaching into some areas of France and Spain.
One little known travel tip: some places in Portugal offer tourist cards for free or discounted public transportation. The Portuguese Rail Services, for example, offers a Tourist Travelcard (Bilhete Turistico) allowing tourists to travel on various trains throughout the country. Check the local website of where you're staying or any of the destinations you are planning to travel to in Portugal to see if they offer a tourist card.
Taxis are another option for travel within Portugal. Unlike other places, the taxis in Portugal are usually cream in color. Some taxis may be painted black with a green roof. Keep in mind, if you call a taxi rather than waving one down off a street, there is an extra charge of 0.60 EUR. Taxis also charge 1.60 EUR for any luggage, regardless of weight or number of bags.
Another transportation option is a rental car, as Portugal's cities are generally car friendly. However, parking can be a problem, and there are customs you ought to know about before driving. For example, if a kind person waves you into a free parking spot, they are often expecting a tip.
Public transportation can be confusing for travelers. To keep travel stress at a minimum, we recommend that travelers find out how to get from the airport to where they are staying before arrival.
Culture
Did you know that Portugal is Europe's oldest nation? The Portuguese are proud of their language and heritage. Knowing a little about local customs will help you feel more comfortable when traveling to Portugal while also showing respect to the Portuguese.
The Portuguese have mealtime customs. They eat three meals a day—a light breakfast between 7:30 and 10 a.m., lunch is served as the daily main meal from 12:00 to 2:30 p.m., and dinner from 7:30 to 10:30 p.m. When dining out, travelers should expect to see a service fee on restaurant bills. It is customary to leave an additional tip of 5-10% on top of the fee for great service.
Decorated tiles are a traditional adornment to buildings. The tiles, called azulejos, date back to the 13th century as a building tool to cover blank interior walls. Nowadays, you will find tiles decorating restaurants, train stations, homes, palaces, and churches.
Similar to etiquette in other countries, it is customary in Portugal to bring a gift when invited to a Portuguese home. Chocolates, candy, or flowers are appropriate to gift the hostess. Do not bring red flowers (as they are for lovers in Portugal) or wine, unless you know what wine the host prefers.
Speaking the Language
Portuguese can be difficult for many travelers to learn. Although the Portuguese often speak fluent English, they respect when visitors know a few words of the native language. Repeat these common Portuguese words and phrases out loud before you go to Portugal.
Bom dia = Good morning
Bom tarde = Good afternoon
Bom noite = Good night
Olá = Hello
Tchau = Goodbye
Como vai? = How are you?
Por favor = Please
Obrigado/Obrigada = Thank you
De nada = You're welcome
Fala inglês? = Do you speak English?
Sim = Yes
Não = No
Onde fica a casa de banho? = Where is the bathroom?
Adoro estar em Portugal! = I love being in Portugal!
Risk & Crime
Crime rates in Portugal have remained relatively low in past years. There are still risks you may want to know about, and precautions you may want to take before traveling to Portugal. Tourists are at risk of pickpocketing, especially in Portugal's cities. If you are renting a car, remove all valuable personal items, including luggage, when parking. Car theft is a frequent problem at popular tourist sites. If you plan to rent a car in Portugal, you may want to consider rental car insurance.
In general, however, Portugal is a safe and popular destination for travelers. As in any country, be aware of the risks associated with traveling to Portugal, as that can be a factor when deciding on the right travel protection. It's a good idea to check if a Portugal travel advisory has been issued before your trip.
---
Popular Destinations in Portugal
Looking for things to do in Portugal? We've compiled a list of where to go and what to visit in Portugal. There is so much to experience! We often recommend that our travelers take their time exploring the places that most interest them. Portugal's popular destinations are far apart, especially if you are visiting more than one region. Focusing on enveloping yourself in the culture of one area will help you truly relish in Portuguese culture.
Top 10 Portugal Travel Destinations
Lisbon
Evora
Lagos
Nazare
Sintra
The Azores Islands
Cascais
Madeira
Portimao
Albufeira
---
U.S. / Portugal Embassy and Consulate Locations
U.S. Embassy and Consulate in Portugal
U.S. Embassy Lisbon
Avenida das Forças Armadas
1600-081 Lisboa
Phone: 351.21.727.3300
U.S. Consulate Ponta Delgada
Príncipe de Mónaco, 6-2 F
9500-237 Ponta Delgada
Phone: 351.296.308.330
Portuguese Embassy and Consulate in USA
Washington DC — Embassy of Portugal
2012 Massachusetts Avenue, N.W.
Washington DC 20036 United States
Phone: 1.202.332.3007
San Francisco, California — Embassy of Portugal
3298 Washington Street
San Francisco, CA 94115 United States
Phone: 1.415.346.3400 / 1.415.346.3401
Miami, Florida — Embassy of Portugal
2000 Ponce de Leon Blvd, Suite 600
Coral Gables, FL 33134 United States
Phone: 1.786.441.5182
New Orleans, Louisiana — Embassy of Portugal
201 St. Charles Av. 5000
New Orleans LA 70170 United States
Phone: 1.504.582.8272
Boston, Massachusetts — Embassy of Portugal
31 St. James Avenue, Suite 350
Boston, MA 02116 United States
Phone: 1.617.536.8740
New York, New York — Embassy of Portugal
866 2nd Avenue, 8th Floor
New York, NY 10017 United States
Phone: 1.646.845.0042
Houston, Texas — Embassy of Portugal
721 Buckingham Dr
Houston, TX 77024 United States
Phone: 1.713.515.5272
Disclaimer: The information contained in this article serves as a general overview of benefits and should only be used for informational purposes. Refer to your individual certificate of insurance for specific coverages, exclusions, and benefits. When in doubt, please contact one of our licensed agents for additional assistance.