Travel Insurance for Guatemala
Last updated on 02/16/2023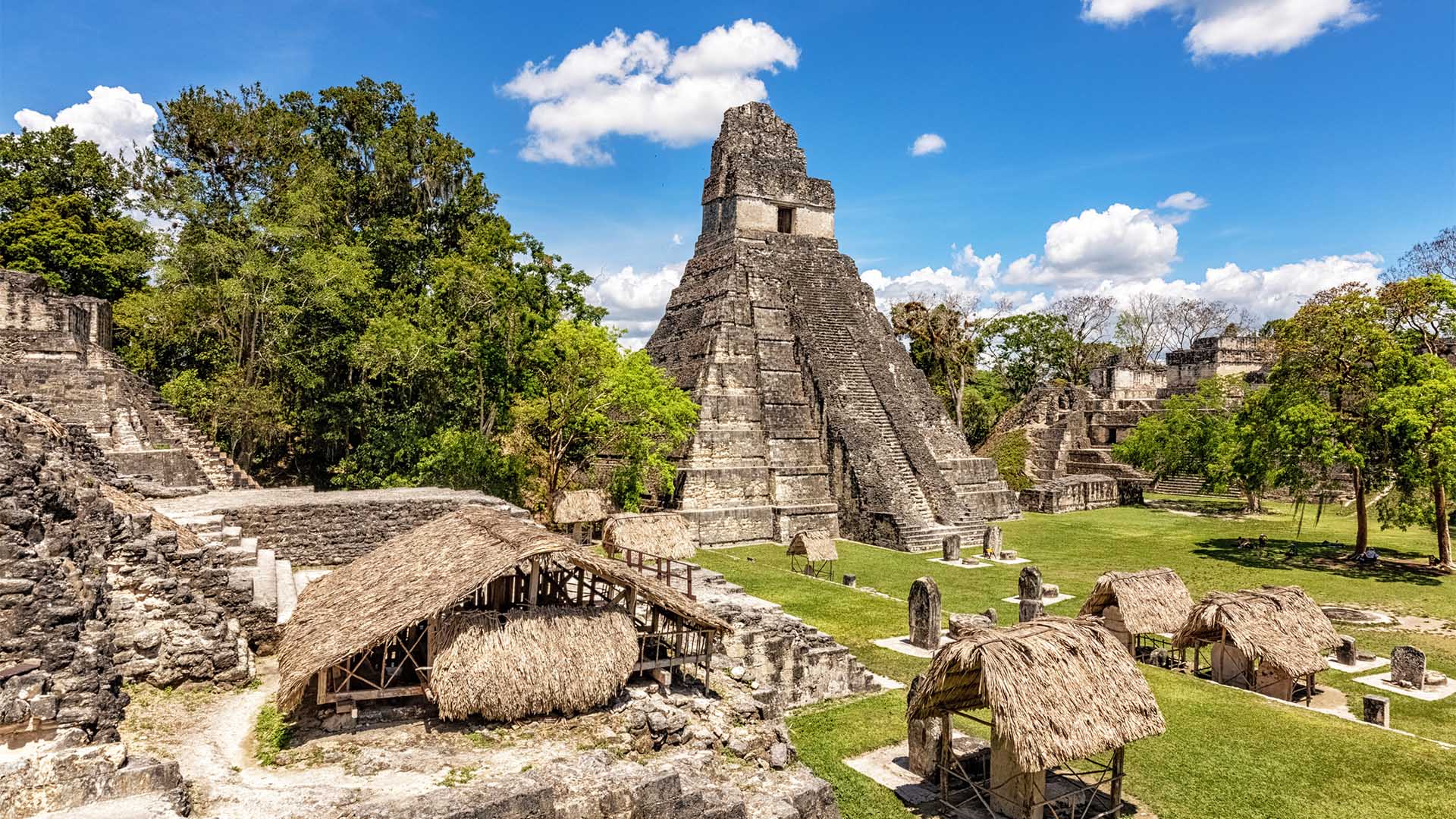 Do I Need Travel Insurance for Guatemala?
Travelers love Guatemala for its ancient Mayan ruins, plentiful outdoor activities, and vibrant music and culture. When visiting this lively nation, travelers are strongly recommended to protect their trip against costly disturbances. Travel insurance is not mandatory to enter Guatemala, but coverage can go a long way if things go awry while you are overseas. Depending on the details of your plan, Guatemala travel insurance may include benefits related to disruptions in transportation services, emergency medical events, lost or stolen personal items, and much more.
Guatemala is a nature-rich destination, inviting travelers who love the outdoors to join in activities like trekking, kayaking, or backpacking. Backpackers in Guatemala may benefit from travel insurance for delays or cancellations in planned transportation as well as travel medical insurance. Travelers planning a trip or tour near one of Guatemala's many volcanoes may want to understand how volcanic activity may affect travel insurance coverages. International travel can be unpredictable, and seasoned travelers know that it's best to be prepared.
Planning to travel more than once in a year? Multi-trip travel insurance can cover annual trips or other frequent travels around the globe, saving you time when getting ready for your next trip.
Perhaps the most common reason travelers purchase Guatemala travel protection is for international health benefits.
What Does Travel Medical Insurance for Guatemala Cover?
Travel medical insurance for Guatemala may assist travelers faced with emergency medical events, such as unforeseen illness or injury. Typically, travel health insurance covers hospital fees, emergency evacuation, emergency medical and dental treatment, and 24-hour traveler assistance. Additional benefits to consider for a trip to Guatemala may include:
Trip interruption: A refund may be issued to travelers who become too sick or injured to continue a trip as planned.
Pre-existing conditions: Coverage for existing health conditions may be included with a pre-existing conditions waiver. This benefit is time-sensitive, so be sure to purchase at the right time.
Hazardous sports rider: Travel insurance plans will need this rider to cover injuries from activities considered "high-risk," such as trekking or rock climbing in Guatemala.
A comprehensive travel insurance plan typically provides travel medical insurance plus travel-related benefits, like coverage for lost luggage, delays, cancellations, and more.
COVID-19 Coverage for Guatemala
Some Guatemala travel insurance plans can include coverage for COVID-19. However, this will vary by plan, as some travel insurance providers will not pay for expenses related to the coronavirus. If you want COVID-19 coverage for your Guatemala trip, be sure to read the information provided with your plan and confirm your desired coverage before purchasing. Travelers may also browse through travel insurance plans that do include COVID-19 coverage by starting a travel insurance quote and selecting "Top Picks for COVID-19" on the results page.
In some cases, travelers wish to cancel a trip due to COVID-19 or other concerns that may not be covered by all travel insurance plans. For the most flexibility to cancel your trip and receive reimbursement for part of your trip costs, travelers may consider the Cancel For Any Reason (CFAR) upgrade. CFAR may provide a refund for a greater number of reasons than the Trip Cancellation benefit, but CFAR does have certain eligibility requirements, so not all travelers will qualify for this benefit.
How Much Does Guatemala Travel Insurance Cost?
Travel insurance is unique to the trip being covered. Although there is no one-size-fits-all price for Guatemala trip insurance, travelers can usually count on certain factors to determine the cost of a policy.
Factors that influence travel insurance rates include:
Type of coverage
Number of travelers
Age of travelers
Duration of the trip
Travelers may expect to pay more when covering larger groups of travelers. Additionally, a week-long trip may cost less to cover than a month-long trip with the same coverage. Travelers may choose to insure their total trip cost, which can also affect the final price of a plan.
What is the Best Travel Insurance for Guatemala Trips?
Everyone has different concerns when traveling to Guatemala, so travel insurance plans may vary to address these needs. InsureMyTrip recommends travelers consider their party's health concerns and full itinerary when planning any international trip.
Travelers may compare coverage levels, providers, prices, and reviews all in one place with InsureMyTrip's travel insurance quote tool. This tool's SMART System automatically filters through thousands of plans each trip's details to help you in your search for the best travel insurance for Guatemala.
---
Travel Tips & Safety for Guatemala
Money & Currency Exchange
The official currency of Guatemala is the Guatemalan quetzal (Q and GTQ). Each quetzal subdivides into 100 centavos, or len in local slang (plural lenes). Banknotes are issued in values of 1, 5, 10, 20, 50, 100, 200 quetzales while coins come in denominations of 1, 5, 10, 25, 50 centavos, as well as 1 quetzal.
While some areas in Guatemala may accept USD, it is recommended that travelers keep quetzales on hand for everyday transactions. Even if business owners accept USD, it's very likely you may receive change in quetzales. Additionally, the exchange rate applied may not be favorable. It's also important to note that some businesses may only accept certain banknote values or bills that are in very good condition. For this reason, travelers heading to Guatemala should exchange some of their domestic currency for quetzales before or as they arrive in the country.
In many cases, larger businesses and tourist destinations may accept foreign credit or debit cards. ATMs or exchange bureaus are also good options for travelers looking to withdraw or exchange money as needed. If you plan to use ATMs, make sure the machine is in a well-lit, busier area and be aware of your surroundings. Petty theft does occur in Guatemala, so taking extra precautions helps avoid becoming a target.
Risk & Crime
How safe is Guatemala to visit? According to TravelSafe, Guatemala scores a 53 out of 100 on a travel safety scale, which is considered relatively low. As with any country, certain regions in Guatemala may expose visitors to more risk than others. In particular, the U.S. Department of State recommends travelers reconsider travel to areas such as San Marcos Department, Huehuetenango Department, Zone 18, and the region of Villa Nueva in Guatemala City.
When traveling anywhere, travelers are encouraged to be wary of scams targeting tourists as well as the possibility of petty theft. It may be important to understand how travel insurance coverages may assist travelers who are faced with passport/identity theft while abroad. Additionally, travelers should take extra precautions when handling money or other valuables to lessen the chance of robbery during a trip. Dress modestly and remain in bright, public places whenever possible.
---
Top 15 Travel Destinations & Tourist Attractions in Guatemala
Semuc Champey
Tikal National Park (Mayan Ruins)
Antigua Guatemala
Quetzaltenango (Xela)
Lago de Atitlán (Lake Atitlán)
Livingston
Monterrico
Chichicastenango
Guatemala City
Flores
Mayan Ruins of Iximche
Laguna Lachuá
Nebaj & the Ixil Triangle
Pacaya Volcano
Todos Santos Cuchumatán
---
U.S. / Guatemala Embassy and Consulate Locations
U.S. Embassy in Guatemala
U.S. Embassy Guatemala
Avenida Reforma 7-01, Zona 10
Guatemala City, Guatemala
Phone: 502.2326.4000
Guatemalan Embassy and Consulate in USA
Washington DC — Embassy of Guatemala
2220 R St. NW
Washington DC 20008 United States
Phone: 1.202.745.4953
Los Angeles, California — Consulate General of Guatemala
1975 Riverside Dr
Los Angeles, CA 90039 United States
Phone: 1.213.900.1098
San Francisco, California — Consulate General of Guatemala
659A Merchant St
San Francisco, CA 94111 United States
Phone: 1.415.563.8319
Miami, Florida — Consulate General of Guatemala
1101 Brickell Ave, Ste 603-S
Miami, FL 33131 United States
Phone: 1.305.679.9946
Chicago, Illinois — Consulate General of Guatemala
5559 N Elston Ave, # 100
Chicago, IL 60630 United States
Phone: 1.312.540.0781
New York, New York — Consulate General of Guatemala
276 Park Avenue, 2nd Floor
New York, NY 10010 United States
Phone: 1.212.686.3837
Houston, Texas — Consulate General of Guatemala
6300 Richmond Avenue Suite 103
Houston, TX 77057 United States
Phone: 1.713.953.9531
Disclaimer: The information contained in this article serves as a general overview of benefits and should only be used for informational purposes. Refer to your individual certificate of insurance for specific coverages, exclusions, and benefits. When in doubt, please contact one of our licensed agents for additional assistance.