Travel Insurance for Nepal
Last updated on 06/16/2023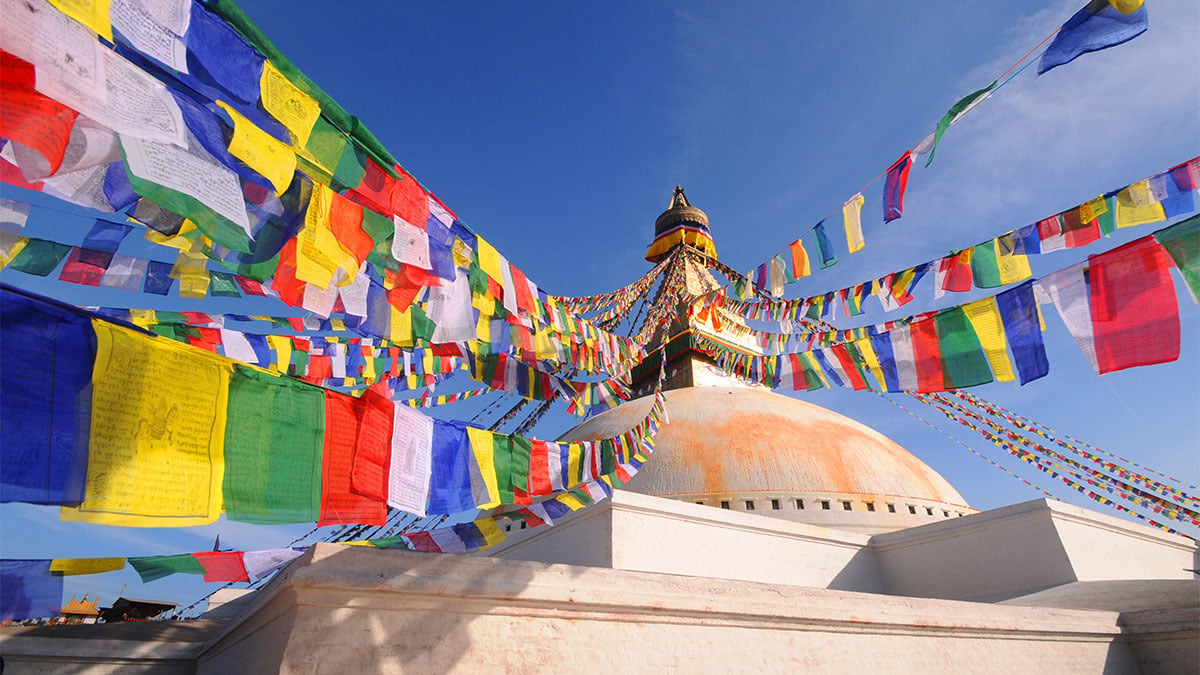 ---
---
Is Travel Insurance Mandatory for Nepal?
Yes, all visitors to Nepal are required to have travel insurance that covers emergency medical treatment including COVID-19 and medical repatriation (a service to return a traveler to their home country for health reasons).
In addition to COVID-19 and repatriation, the U.S. Department of State highly recommends coverage for emergency medical evacuation in Nepal and flight insurance for travelers flying on Nepali airlines.
A comprehensive travel insurance policy is recommended for most travelers visiting Nepal as these plans can meet coverage requirements and include additional travel-related benefits. Many situations, such as delays in transportation, lost or damaged luggage, and trip cancellation may be covered by a comprehensive travel insurance plan.
How Much Does Nepal Travel Insurance Cost?
Travel insurance prices for Nepal are variable, as several distinct factors will influence the cost of each policy:
Duration of the trip
Number of travelers
Age of the travelers
Benefits included in the plan
In general, as risk involved with your Nepal trip increases, the price of travel insurance may also increase.
What Does Travel Health Insurance for Nepal Cover?
Travel medical insurance for a trip to Nepal can be purchased as a standalone plan or as part of a comprehensive travel insurance plan. Alone, Nepal travel health insurance often covers emergency medical treatment, visits to a doctor, dental care, and more, depending on the details of the plan.
Additional travel-related benefits such as assistance with luggage loss, trip cancellations, delays due to weather or mechanical issues, and more may be added to these medical benefits in a comprehensive plan.
At the very least, your travel health insurance for Nepal must include coverage for COVID-19 and repatriation services. Emergency medical evacuation and flight insurance are also highly recommended by the U.S. Department of State.
Additional coverages to consider may include:
Pre-existing Conditions
Treatment related to pre-existing health conditions is not covered by all travel insurance plans. A traveler with health conditions prior to the trip may obtain a waiver for the conditions to ensure that related expenses can be paid for by their Nepal trip insurance. Coverage for pre-existing conditions is a time-sensitive benefit, so please be sure to review the details of this benefit before purchasing.
Hiking/Trekking
Travelers considering mountain trekking in Nepal may consider a hazardous sports rider for high-risk activities such as trekking, plus emergency medical evacuation. Thorough medical insurance to cover instances of injury, extreme fatigue, and acute mountain sickness (AMS) is recommended, as the high-altitude mountains of Nepal may expose travelers to frostbite and AMS. Hospitality employees along trekking routes may be able to connect travelers with helicopter evacuation services, which some travel health insurance policies may offer coverage for. Be sure to keep your travel insurance information with you while trekking in Nepal as some services, like helicopter rescue, may expect payment or proof of adequate Nepal travel insurance before treatment or services can be administered.
Trip Interruption
Travelers who get extremely sick or injured in Nepal may not be able to continue with their trip. Cancellations due to illness or injury may be covered by a trip cancellation benefit. Be sure to review the details of your plan carefully before purchasing, as this benefit covers certain reasons for cancellation.
Cancel For Any Reason (CFAR)
Travelers concerned about cancellations for their Nepal trip that may not be covered by other travel insurance benefits may consider the Cancel For Any Reason (CFAR) coverage. This coverage can reimburse 50%-75% of insured prepaid, nonrefundable trip costs to the traveler in the event of the trip's cancellation prior to departure. CFAR has certain eligibility requirements, so not all travelers will qualify for this benefit.
Overall, being covered by travel medical insurance in Nepal may help protect visitors from many unforeseen expenses abroad.
What is the Best Travel Insurance for Nepal Trips?
Every traveler is unique, and the best Nepal travel insurance policy for you depends on your specific travel detail and concerns. InsureMyTrip recommends entering those details to start a quote where you can review and compare policies and provider to find the right coverage for your trip to Nepal.
---
Travel Tips & Safety for Nepal
Money & Currency Exchange
Nepal's official currency is the Nepalese rupee (currency code: NPR). Travelers can expect to see prices in the country denoted by the symbols ₨ or NRs. Nepal's banknotes are available in values of 5, 10, 20, 50, 500, and 1,000, varying in size according to their value. Rarely-used rupee notes of 1, 2, 25, and 250 also exist, but you may not come across these. Rupee coins are valued at 1, 2, 5, or 10 rupees, though the 5- and 10-rupee coins are also uncommon. One rupee can be divided into 100 paisa (p), represented by coins of 1, 5, 10, 25, and 50 paisa.
Though you may be able to use credit cards at some major hotels, stores, and restaurants, many businesses in Nepal won't accept payment by card. It's wise to keep cash on hand for day-to-day purchases. Unlike other destinations, exchange rates don't vary much from one money exchange service to another in Nepal. For that reason, it generally doesn't make much of a difference where you change your money in Nepal (ATM, hotel, money exchanger, etc). However, Nepalese rupees generally can not be exchanged outside the country, so do your best to spend your rupees or exchange them back to your local currency before leaving the country. One simple trick is to use your leftover rupees to pay part of your hotel bill when checking out and put the rest on your card.
Transportation
Buses are the most prevalent and affordable means of transportation in Nepal, frequented by travelers and locals alike. Some of Nepal's buses have compartments for storing luggage, but when these compartments are full you may need to lock your belongings and secure them onto the roof. Local city buses serve short, busy routes while longer distance rides between major destinations may be fulfilled by tourist buses. Tourist buses are typically more comfortable and offer lunch or tea for the long ride. Or for more privacy, you can opt to take a taxi. Taxi rides are usually considerably more expensive than buses whether you use the meter or negotiate a price before the ride. However, taxis are a comparatively safer option on some of Nepal's poorly maintained roads. Some travelers choose to hire a private car and driver or rent their own wheels if confident about biking on uneven roads. Both bicycles and motorbikes/motorcycles can be rented in Nepal. To quickly travel longer distances, you can also take a domestic flight between Nepal's 40+ airports.
Risk & Crime
Nepal's crime rate is quite low, but like most countries, there are rare instances of pickpocketing and bag snatching. To lessen the chance of theft, keep your personal items hidden and always stay vigilant. Whenever possible, stay in bright, public places, but avoid political demonstrations as they can sometimes become unruly.
The main risk travelers face when visiting Nepal has less to do with crime and more to do with nature. Nepal's unique geography holds 8 of the world's 10 highest peaks — including Mount Everest, the world's tallest peak. The same rugged terrain that offers excitement and attractions for adventurous travelers also equals risk when it comes to road safety. Nepal's roads, stations, and even airports include some of the most unpredictable in the world, surrounded by mountains and relatively short, thin, and windy lanes. Due to the country's position in the Himalayas, Nepal sits in a high-risk earthquake zone. This setting also means that floods, landslides, and storms are somewhat common occurrences in Nepal. For this reason, never trek alone in Nepal. The U.S. State Department strongly recommends emergency medical evacuation and repatriation coverage for Nepal trips. For the most up-to-date weather information, refer to Nepal's local news outlets or the Government of Nepal's Meteorological Forecasting Division.
---
Top 15 Travel Destinations & Tourist Attractions in Nepal
Chitwan National Park
Annapurna Circuit
Pokhara
Kathmandu
Lumbini
Nagarkot
Bhaktapur
Mount Everest & Sagarmatha National Park
Langtang National Park
Bardiya National Park
Nuwakot
Dharan
Khumbu
Lalitpur (Patan)
Bhotekoshi River
---
U.S. / Nepal Embassy and Consulate Locations
U.S. Embassy in Nepal
U.S. Embassy Kathmandu
Maharajgunj, Kathmandu, Nepal
Phone: 977.1.423.4000
Nepalese Embassy and Consulate in USA
Washington DC — Nepalese Embassy
2131 Leroy Place, NW
Washington DC 20008 United States
Phone: 1.202.667.4550
Los Angeles, California — Nepalese Honorary Consulate
4640 Admiralty Way, 5th Floor
Marina Del Rey, CA 90292 United States
Phone: 1.310.305.4024
Chicago, Illinois — Consulate General of Nepal
10 N Dearborn St Ste 700
Chicago, IL 60602 United States
Phone: 1.312.263.1250
New York, New York — Nepalese Permanent Mission to the UN
820 Second Avenue, Suite 17-B
New York, NY 10017 United States
Phone: 1.212.370.3988
Disclaimer: The information contained in this article serves as a general overview of benefits and should only be used for informational purposes. Refer to your individual certificate of insurance for specific coverages, exclusions, and benefits. When in doubt, please contact one of our licensed agents for additional assistance.