Travel Insurance for Poland
Last updated on 09/19/2023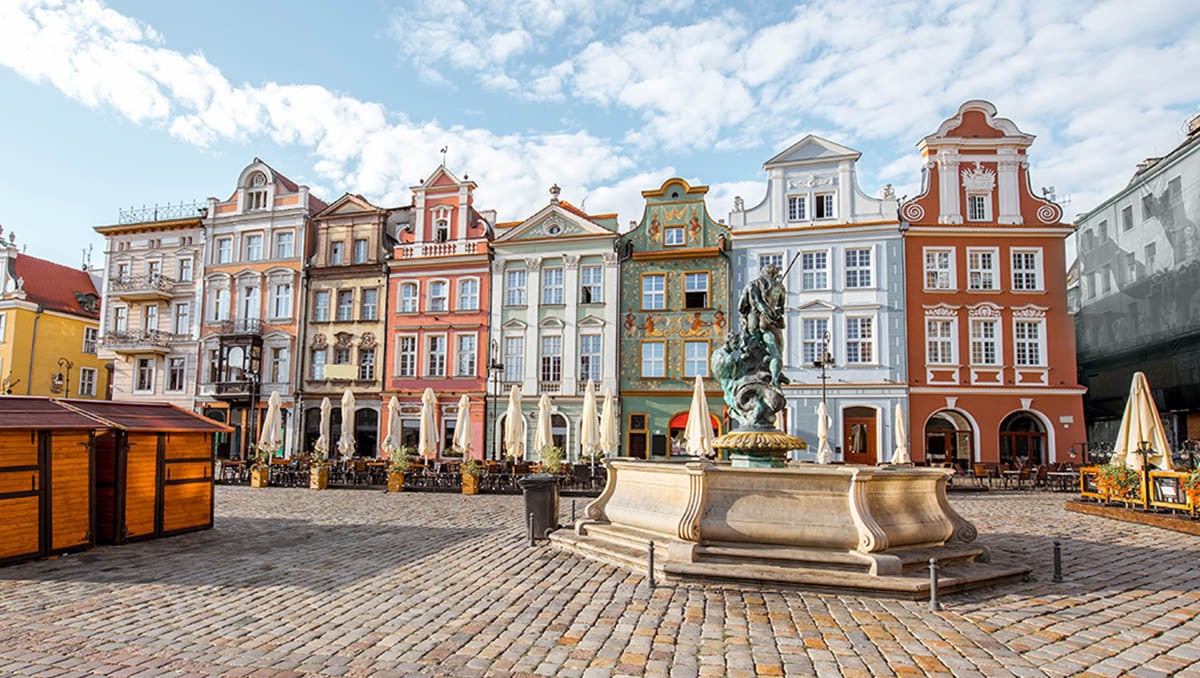 ---
---
Do I Need Travel Insurance for Poland?
Poland is a scenic and traditional destination, frequented by travelers for tourism, school, and business trips alike. Those planning a trip to this historic country should be advised that travel insurance is mandatory for some visitors to Poland. While visitors from certain countries are required to have travel insurance for entry, coverage is highly recommended for all travelers. Travel insurance for Poland can help protect visitors from medical expenses and costs related to a variety of unforeseen travel mishaps.
An array of unique coverages may be offered, all designed to assist travelers when things go wrong overseas. Poland trip insurance may reimburse travelers for covered expenses and sometimes directly pay for certain necessities during a trip.
How Much Does Poland Travel Insurance Cost?
Travel insurance varies with the trip being covered, so each policy may be a little different. In general, several determining factors influence the overall price of travel insurance for Poland:
Size of the traveling party
Ages of travelers
Trip length
Type of coverage
Each of these factors helps providers gauge the risk associated with a trip to Poland. Typically, as risk involved with the trip increases, travel insurance prices may also increase.
For a more accurate representation of how your trip details might affect the cost of a plan, enter those details into the free custom travel insurance quote tool and review rates currently being offered for your desired coverages.
What Does Travel Health Insurance for Poland Cover?
Most travel medical plans cover emergency healthcare treatment, emergency medical evacuation, and hospital fees, but other coverages can vary plan-by-plan. Travelers may choose to incorporate certain coverages that pertain to their personal health concerns and Poland itinerary.
For example, travelers with a pre-existing medical condition may prioritize getting a waiver and coverage for treatment related to the condition while abroad. Travelers may also consider coverage like trip interruption, which can offer reimbursement to travelers who must leave Poland early due to an illness or injury.
Travel-related benefits, like those for lost baggage, flight delays, and more, can be purchased alongside travel health insurance for Poland in a comprehensive travel insurance plan. Comprehensive plans provide the greatest amount of coverage to travelers.
COVID-19 is a notable concern for many travelers to Poland. Some travel insurance companies may cover COVID-19 treatment, quarantine, and more, but not all providers pay for expenses related to the coronavirus. For eligible travelers, coverages like Cancel For Any Reason may offer assistance when canceling a trip due to COVID-19 or other reasons. Some benefits are time-sensitive or have certain requirements, so be sure to review the details of your coverages.
What is the Best Travel Insurance for Poland Trips?
Poland travel protection is unique to the trip being covered, so travelers are encouraged to identify coverage that suits their trip by comparing different travel insurance plans and price points.
Traveling abroad for work or pleasure can open the door to many troublesome situations, and international insurance for Poland should aim to give visitors peace of mind to experience their trip to the fullest.
---
Travel Tips & Safety for Poland
Money & Currency Exchange
Although a member of the European Union, Poland doesn't use the Euro. The official currency of Poland is the Polish złoty (currency code: PLN). Similar to cents in USD, each Polish złoty can be divided into 100 groszy. When shopping in Poland, you're likely to see prices marked by the sign zł to represent Polish złoty and gr to represent groszy. Banknotes in Poland come in denominations of 10zł, 20zł, 50zł, 100zł, and 200zł, with each denomination bearing a distinct symbol to help the visually-impaired determine its value:
10zł - square
20zł - circle
50zł - diamond
100zł - plus sign
200zł - triangle
Poland's coins come in values of 1gr, 2gr, 5gr, 10gr, 20gr, 50gr, 1zł, 2zł, and 5zł. While it's a good idea to carry some cash for smaller vendors, local markets, and taxis, most businesses in Poland's cities and tourist destinations will accept major credit cards like Visa, Mastercard, American Express, and Diner's Club. ATMs are convenient and generally offer good exchange rates, so using an ATM is one of the best methods to exchange your local currency to Polish złoty. Airports, hotels, and kantors (exchange offices) can also change your money, but with these methods, exchange rates may vary, and hidden fees may apply.
Transportation
Polish cities can be easily explored with modern and affordable public transportation, including buses, trains, trams, and metro (Warsaw only). To quickly travel long distances, domestic flights may be your best bet. Poland also offers ferries, including routes that lead to neighboring countries like Denmark, Sweden, Norway, and Finland. Trains like the Speedy InterCity, Express InterCity, and Eurocity connect major cities to one another, while local and regional trains serve smaller towns. Buses also run in all but the smallest towns, but for some travelers it may still be worthwhile to rent a car. For example, some travelers want the freedom to explore the Polish countryside on their own time. Just be advised that most Polish cars are manual transmission, so you may have to pay more for an automatic if necessary.
Risk & Crime
Poland's crime rate is lower than many of its European neighbors, and the country isn't prone to many devastating natural disasters. As such, Poland is considered a very safe country for travelers and you can typically expect things to go smoothly if you keep your wits about you during your trip. However, no country is completely free from pickpocketing and bag snatching. In Poland, pickpockets have been reported to operate in major cities, tourist destinations, and on public transportation like trains. It's best practice to dress modestly without jewelry during your trip and keep all valuables, including phones, wallets, and travel documents, completely hidden and inaccessible to strangers while in public. Furthermore, lessen your chances of becoming a target by staying in well-lit, open areas with plenty of people around. Always keep your hands on your purses and bags.
Poland's location has major geographical benefits, keeping the country safe from a number of potential natural risks. Earthquakes hit Poland rarely and the occasional bout of extreme weather may cause problems for tourists. However, these events are typically infrequent, especially when compared to other destinations and even nearby countries.
---
Top 10 Travel Destinations & Tourist Attractions in Poland
Krakow
Gdansk
Malbork
Warsaw
Torun
Wroclaw
Bialowieza Forest Reserve
Poznan
Tatra National Park
Wieliczka Salt Mine
---
U.S. / Poland Embassy and Consulate Locations
U.S. Embassy and Consulate in Poland
U.S. Embassy Warsaw
Aleje Ujazdowskie 29/31
00-540 Warsaw Poland
Phone: 48.22.504.2000
U.S. Consulate General Krakow
ul. Stolarska 9
31-043 Krakow Poland
Phone: 48.12.424.5100
Polish Embassy and Consulate in USA
Washington DC — Polish Embassy
2640 16th Street, NW
Washington DC 20009 United States
Phone: 1.202.234.3800
Los Angeles, California — Consulate General of the Republic of Poland
12400 Wilshire Blvd., Suite 555
Los Angeles, CA 90025 United States
Phone: 1.310.442.8500
Chicago, Illinois — Consulate General of the Republic of Poland
1530 N Lake Shore Dr
Chicago, IL 60610 United States
Phone: 1.312.337.8166
New York, New York — Consulate General of the Republic of Poland
233 Madison Avenue (Jan Karski Corner)
New York, NY 10016 United States
Phone: 1.646.237.2102
Houston, Texas — Consulate General of the Republic of Poland
3040 Post Oak Blvd, Suite 525, 5th floor
Houston, TX 77056 United States
Phone: 1.713.479.6770 / 1.713.993.9685
New York, New York — Polish Permanent Mission to the United Nations
750 Third Avenue, 30th Floor
New York, NY 10017 United States
Phone: 1.212.759.9444 / 1.646.559.7552
Disclaimer: The information contained in this article serves as a general overview of benefits and should only be used for informational purposes. Refer to your individual certificate of insurance for specific coverages, exclusions, and benefits. When in doubt, please contact one of our licensed agents for additional assistance.