Travel Insurance for Qatar
Last updated on 02/14/2023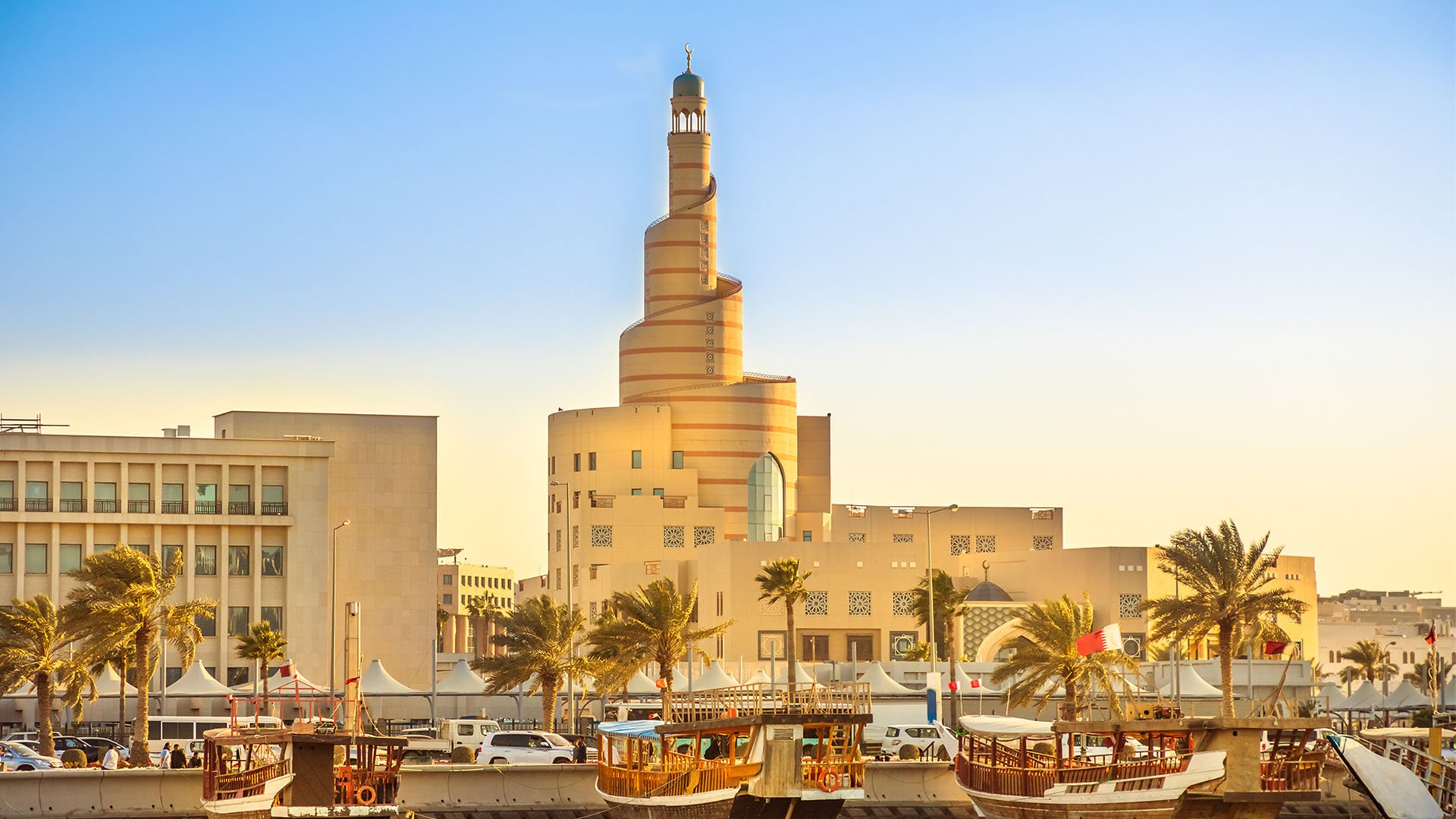 Is Travel Insurance Mandatory for Qatar?
Qatar offers visitors a year-round sunny climate, sparkling coastlines, and a rare seaside desert. Although travel insurance is not required to visit Qatar, coverage is highly recommended to protect your trip – and your wallet – from unforeseen burden. Qatar travel insurance may provide reimbursement for covered incidents, health care, or emergency evacuation when things go awry.
For example, visitors traveling by air or sea may encounter various disruptions during transportation from one country to another. Delayed or cancelled flights as well as lost baggage may be covered by international insurance for Qatar in a comprehensive plan. Similarly, cruise insurance can cover travelers in case of missed connections, shipboard disruptions, and more during a trip overseas.
Sports fans heading to Qatar for the 2022 World Cup may consider comprehensive travel insurance plans for the greatest amount of coverage during the trip. Travel insurance for the World Cup in Qatar may include coverage for travel delays, luggage issues, and medical events like illness or injury.
All international travel involves some degree of risk, and travel insurance for Qatar may offer various benefits to address travelers' unique concerns and lessen the chance of financial strain while abroad.
How Much Does Qatar Travel Insurance Cost?
Qatar trip insurance may vary depending on the needs of each individual trip, so no policy is one-size-fits-all. The price of travel insurance for Qatar is typically determined by a trip's duration, the type of coverage, and the number and ages of covered travelers. Often, travel insurance prices are dependent on the level of perceived risk involved with a trip. As such, longer trips or older travelers may cost more to cover due to the increased potential of risk.
Adding greater coverage can also alter the price of a plan. In some cases, travelers may choose to insure the total "nonrefundable" cost of their trip for a percentage refund in case of a covered disruption.
What Does Travel Health Insurance for Qatar Cover?
Travel health insurance for Qatar will generally cover travelers who get sick or hurt and need medical treatment during a trip. Travel medical plans also typically cover emergency dental care and emergency medical evacuation to facilities suitable for the necessary treatment. Depending on the plan, Qatar travel medical insurance may include additional benefits such as:
High-risk activity coverage: A hazardous sports rider keeps adventurous travelers covered while partaking in activities which are not covered by other travel medical benefits. This coverage is recommended for travelers who are interested in "high-risk" activities like jet skiing or rock climbing in Qatar.
Pre-existing conditions: Treatment for diagnosed pre-existing health conditions may not be covered without a waiver for the condition. It's important to purchase travel insurance coverage at the right time, as adding coverage for pre-existing conditions may be time-sensitive.
Trip interruption: Trip interruption may provide a refund to travelers who cannot continue a Qatar trip as planned due to a medical emergency.
COVID-19 coverage: Travel insurance for expenses related to COVID-19 in Qatar may be offered by some travel insurance providers, but not all providers will cover named events such as COVID-19. Travelers concerned about the coronavirus should read the details of their plan to confirm the desired coverage before purchasing. Benefits such as the time-sensitive Cancel For Any Reason may offer travelers the most flexibility to cancel a trip due to COVID-19 and other reasons not covered by other plans, but this benefit is not available for every traveler.
Travel medical insurance can be purchased as a standalone plan or paired with travel-related benefits in a comprehensive plan. Coverage for delays, cancellations due to weather or mechanical issues, lost luggage and more may be included in comprehensive travel insurance for Qatar.
What is the Best Travel Insurance for Qatar Trips?
As everyone has different priorities when planning a trip, Qatar travel protection is generally individual to the trip and travelers being covered. Some travelers may prioritize coverage for accidental damage to vacation rentals or business trips with expensive company property. Other travelers may be looking for the best travel insurance for the World Cup 2022 in Qatar. Travelers who are interested in annual trips to Qatar may prefer a multi-trip travel insurance plan to save time when planning future trips.
While comprehensive plans may provide the greatest number of benefits, travelers are recommended to consider their personal concerns and itinerary to determine which benefits may work best for a trip to Qatar. InsureMyTrip makes it easy to evaluate travel insurance coverage levels, providers, and reviews all in one place online.
Does Qatar Airways Offer Travel Insurance?
Qatar Airways offers travel insurance for residents of France, Germany, Italy, Kuwait, Lebanon, Norway, Oman, Qatar, Spain, Sweden, United Arab Emirates, and United Kingdom. Travelers with a passport from one of these countries may purchase limited travel insurance from qatarairways.com.
U.S. citizens and residents of any country, including those listed above, may purchase a plan from a travel insurance provider. At InsureMyTrip, we highly recommend travelers compare between multiple travel insurance companies and plans when reviewing travel insurance for a trip to Qatar.
---
Travel Tips & Safety for Qatar
Currency & Exchanging Money
The official currency of Qatar is the Qatari riyal (QR and ر.ق). Each riyal can be further divided into 100 dirhams. Banknotes come in denominations of 1, 5, 10, 50, 100, 200, and 500 riyals while coins come in values of 1, 5, 10, 25, and 50 dirhams though 1, 5, and 10 dirham coins are rarely used.
While many tourist spots, hotels, and some larger stores may accept foreign credit and debit cards including those issued in the U.S., the only legal currency is the Qatari riyal. Additionally, most shops conduct business in local cash, so it's best for travelers to exchange some of their home currency for Qatari riyals. This is especially true if you plan to visit the Souqs where shopkeepers either only accept riyals or accept foreign currency but provide change in riyals. Paying in riyals may also help avoid confusion during transactions.
Travelers may exchange their currency at airports, some hotels, exchange offices, and major banks, but ATMs also offer a convenient way to withdraw local currency. However, you'll want to check with your issuing bank to find out about any fees that may apply. ATMs can be found in many shopping malls, some Souqs, large hotels, and on the street. We recommend using ATMs in well-lit and busier areas. As with any foreign travel, it's important to use precaution when handling money in public.
---
Top 10 Travel Destinations & Tourist Attractions in Qatar
Katara Cultural Village (Doha)
Souq Waqif (Doha)
The Corniche (Doha)
Museum of Islamic Art (Doha)
The Pearl-Qatar (Doha)
Aspire Park (Doha)
Abdullah Bin Zaid Al Mahmoud Islamic Cultural Center - Fanar Masjid (Doha)
Sealine Beach (Mesaieed)
Falcon Souq (Doha)
Dahl Al Misfar Cave (Umm ash Shubrum)
---
U.S. / Qatar Embassy and Consulate Locations
U.S. Embassy and Consulate in Qatar
U.S. Embassy Doha
22nd February Street
Al Luqta District
P.O. Box 2399
Doha, Qatar
Phone: 974.4496.6000
Qatari Embassy and Consulate in USA
Washington DC — Embassy of Qatar
2555 M St, NW
Washington DC 20037 United States
Phone: 1.202.274.1603
Los Angeles, California — Consulate General of the State of Quatar
150 S Rodeo Dr, Ste 250
Beverly Hills, CA 90212 United States
Phone: 1.310.246.0005
New York, New York — Consulate General of the State of Quatar
540 Madison Avenue, 38th Floor
New York, NY 10022 United States
Phone: 1.646.882.0300
Houston, Texas — Consulate General of the State of Quatar
1990 Post Oak Blvd, Ste 900
Houston, TX 77056 United States
Phone: 1.713.355.8221
New York, New York — Permanent Mission of The State of Qatar to the United Nations
809 UN Plaza, 4th Floor
New York, NY 10017 United States
Phone: 1.212.486.9335
Disclaimer: The information contained in this article serves as a general overview of benefits and should only be used for informational purposes. Refer to your individual certificate of insurance for specific coverages, exclusions, and benefits. When in doubt, please contact one of our licensed agents for additional assistance.