Travel Insurance for the U.S. Virgin Islands
Last updated on 06/07/2023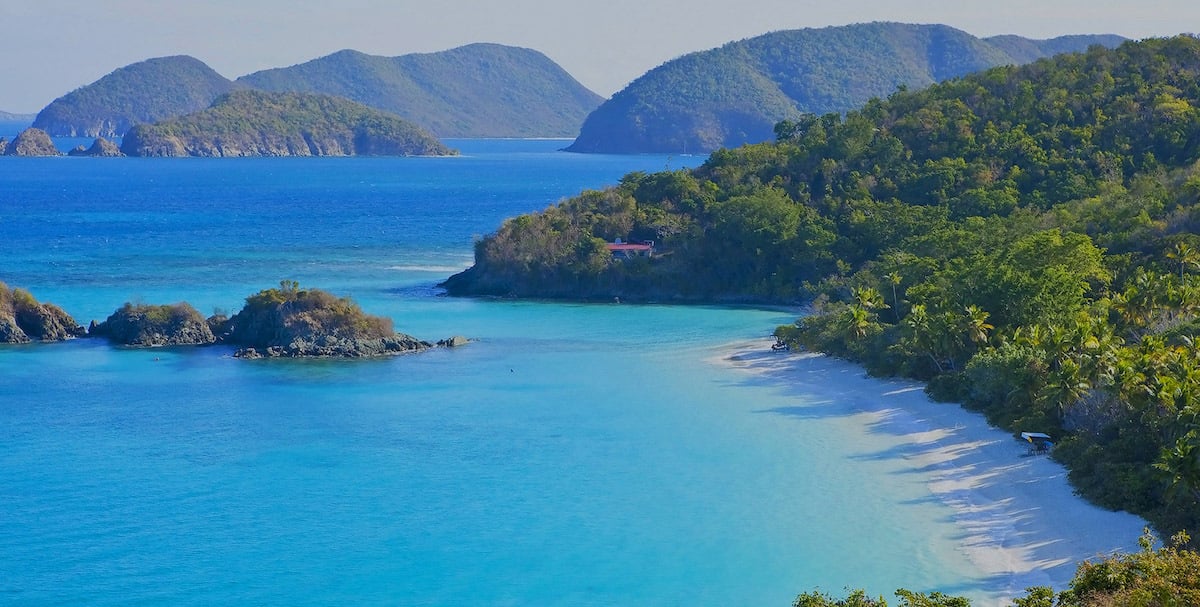 ---
---
Do I Need Travel Insurance for the U.S. Virgin Islands?
The U.S. Virgin Islands (USVI) is one of the top destinations in the Caribbean, especially among U.S. citizens. For this reason, many travelers want to know if travel insurance is a requirement for trips to the U.S. Virgin Islands. While travel insurance is not mandatory, we highly recommend purchasing a plan to cover the unexpected. Most trips to the U.S. Virgin Islands go off without a hitch; however, travel insurance can help protect you against mishaps if they do happen.
One of the most common reasons travelers purchase trip insurance is to cover medical issues. No one expects to get hurt or sick on vacation, but the COVID-19 pandemic has changed the way we think about travel and illness. Travel medical plans offer protection if you get sick but most travelers opt for even more protection. For example, a comprehensive insurance plan that includes trip cancellation as well as many other benefits, may offer better protection for travelers. One popular coverage option is Cancel for Any Reason, or CFAR, which may even cover trip cancellation due to fear of contracting the virus. However, some restrictions and limitations apply.
The U.S. Virgin Islands is a popular stop on Caribbean cruise itineraries. If you will be taking a cruise to, from, or during your trip, consider a plan that incorporates cruise insurance. If you're not cruising, you're more than likely flying to the islands. Delays, mechanical issues, and lost baggage are just a few of the things that can happen at the airport. Flight insurance offers practical coverage for many of these scenarios. If you are interested in multiple coverages, a comprehensive travel insurance plan is a great way to protect against many of the common travel hiccups at the same time.
Hurricane season often affects Caribbean travel plans, so you'll want to consider hurricane coverage if you plan to travel any time between June 1st - November 30th. Even if you're traveling outside this date range, inclement weather can affect your plans, so it's best to plan ahead. When it comes to hurricanes and other storms, coverage typically only applies if it was purchased prior to the storm being named.
How Much is Travel Insurance for the U.S. Virgin Islands?
Oftentimes, customers want to find out how much travel insurance to the U.S. Virgin Islands costs. Since travel insurance is customized per traveler based on a number of individual factors, the short answer is that it depends. The cost of a plan changes depending on the number of travelers, their ages, the duration of the trip, and which type of coverages are selected. In general, older travelers, especially those with known medical issues and pre-existing conditions can expect to pay a little more for coverage. Similarly, the longer the trip, the higher the rate will generally be. As a rule of thumb, low risk results in lower cost. Some travelers may also choose to insure their prepaid, nonrefundable trip cost, which can also influence the overall insurance cost.
Do I Need a Passport to Go to the U.S. Virgin Islands?
Passports are not required for U.S. citizens, which is part of the reason the U.S. Virgin Islands is such a popular vacation destination for Americans. However, non-U.S. citizens will need a passport to enter. It's also important to note that even if you are a U.S. citizen it's a good idea to carry your passport in the event that you return to the U.S. via another country or plan to visit nearby islands, including the British Virgin Islands.
Do I Need Vaccinations to Visit the U.S. Virgin Islands?
In reaction to the COVID-19 pandemic, the U.S. Virgin Islands has instituted new entry requirements for travelers. While COVID-19 vaccinations are not required for entry, it is highly recommended that travelers get vaccinated before traveling abroad. Additionally, all incoming travelers must submit a qualifying negative molecular or antigen test result that was administered no more than five days before traveling. Your test results must be uploaded to the U.S. Virgin Islands Travel Screening Portal, which also has the full information. Upon arrival, visitors to USVI must present both their test result and travel certification from the portal. Travelers will also be checked for temperatures at the airport, and it is expected that both visitors and residents practice social distancing and wear masks in public areas.
Although COVID-19 is a major concern among travelers, it's also a good idea to check for any other required travel vaccinations and make sure they are up to date. Some dangerous diseases can spread via drinking water or bug bites, so be sure to protect against yourself and get vaccinations where necessary.
---
Travel Tips & Safety for U.S. Virgin Islands
Money & Currency Exchange
Another reason that the U.S. Virgin Islands is popular among Americans is that the official currency is the U.S. dollar. There is no other currency in circulation on the islands, so if you're traveling to a country that uses another currency, you should plan to exchange before or upon arrival. ATMs are plentiful on the busier islands, but some less-traveled islands may not have as much access. There are typically fees associated with making withdrawals, so be sure to check with your bank and plan ahead. Some establishments and services only accept cash, including taxis, customs docks, ferry terminals, and some vendors, and restaurants.
In areas where cash machines are not available, you should consider using credit cards. Many tourist establishments and businesses will accept major credit cards. It's best to travel with more than one card and to make sure they are issued from different banks. That way, if there is an issue while abroad, you have a backup. You should also let your issuing bank(s) know that you'll be traveling so you don't end up with an unnecessary hold on your funds.
The U.S. Virgin Islands are also duty free, so no tax is added to food or retail goods. Some resorts and excursion activities may include a resort tax or have other fees added on, so make sure to check with your accommodations or travel supplier in advance to avoid any surprises. Tipping is customary and typical gratuity rates when dining are similar to mainland United States, ranging from about 15-20%. Be sure to check each bill carefully though since some restaurants automatically add the tip to the bill.
Transportation
Getting around the U.S. Virgin Islands is easiest by car, whether you hail a taxi or you opt for a rental car. Rentals are available at the two main airports: Henry E. Rohlsen Airport (STX) on St. Croix and Cyril E. King Airport (STT) on St. Thomas. Keep in mind that if you plan to rent a car and you are coming from a country other than the U.S., you may need to get an international driver's license beforehand. For those traveling from the states, your valid U.S. driver's license will work. The roads on the islands can be bumpy and narrow, so consider renting a vehicle with four-wheel drive if they are available. Taxis frequent the airports and most popular tourist destinations in the area. Just look for licensed Virgin Islands taxis, which are labeled with a placard or license plate. One thing to note is that taxis are not metered, so negotiating your fare before accepting the ride is a must.
Cruises are very popular in the U.S. Virgin Islands. Many vacationers arrive to the islands via cruise ship, but cruise lines also offer a great way to get around the islands as well as other Caribbean destinations. Ferries are similar but cost less and are ideal for day trips and other less organized excursions. If you rented a car, there are several options for car barges that allow you to take your rental aboard. Just make sure to check with your rental agency before taking it off the island. It's important to note that cars, and even luggage, will have additional fees depending on which ferry you choose.
If you're a budget traveler, consider using public transportation to get around. While these bus lines and shuttles aren't the most reliable, they are very inexpensive and can really help those traveling on a budget get the most out of their U.S. Virgin Islands vacation. Buses and shuttles are found at most tourist destinations, shopping centers, and major towns. Oftentimes, services are limited or unavailable on weekends, so it's a good idea to research in advance to find out what the schedules offer.
If you've got a little money to spend and want to make your USVI trip even more memorable, you can charter a seaplane to travel between the islands. Pricing and schedules vary but the unrivaled views from the air make this transportation option very attractive to some travelers. Many of these flights will take you to islands outside of the U.S. Virgin Islands, so if you have plans to visit several Caribbean locations, it could make sense for your trip.
Culture
The U.S. Virgin Islands is similar to many other English-speaking islands in the Caribbean in that the culture is defined by many influences from around the world. The predominant cultural influences are West African, European and American. The combination of indigenous people, enslaved people from several African countries, and colonial settlers gives the territory a diverse culture that embraces many forms of music, dance, literature, and sports. Cuisine is also heavily influenced by Creole culture. Traditional food is usually spicy and hearty. The islands are home to many fresh fruits and vegetables as well, including sugar apples, mangos, sea grapes, papaya, soursop, genip, and tamarind. Staple dishes include fungi (pronounced food-gee), callaloo, roti, and pate. Bush tea is also a popular herbal tea made from local plants like lemongrass that is served hot. While some of the more touristy areas offer cuisine and activities common in the United States, we encourage visitors to get a little adventurous and embrace local culture.
Speaking the Language
The official language of the U.S. Virgin Islands is English, although Virgin Islands Creole is frequently spoken among residents. Other variations of Creole are also spoken due to the influence of Spanish and French settlers over the years. Since English is widely spoken, navigating the U.S. Virgin Islands and speaking to locals is relatively easy. If you're traveling from a non-English-speaking country, it's a good idea to brush up on some common words and phrases. Having a little understanding of common Creole words and phrases is also beneficial but not imperative to enjoying your trip to the territory.
Crime Risk & Traveler Safety
The U.S. Virgin Islands is regarded as a relatively safe destination for vacationers, but no place is free of crime or safety risks. The most common crimes reported include theft, like purse snatching and pickpocketing. We recommend that travelers avoid carrying large amounts of cash or valuables on their person or leaving valuable items in cars. It's also a good idea to read about some of the most common tourist scams, so you know how to avoid them.
Crime is just one element of travel safety. Inclement weather and natural disasters can pose a threat to your vacation as well. As mentioned above, hurricanes and sea storms are common in the area. The beach can also be dangerous due to the heat of the sun, poor swimming conditions, and even wildlife. Be sure to bring reef-friendly sunscreen, stay hydrated, and pay close attention to any warning signs about tides, currents, and dangerous wildlife. It's not uncommon for goats to stand in the middle of the road, so be careful when driving too. The local government does not recommend feeding wildlife, and in some cases, imposes fines for doing so.
Most tourists heading to the U.S. Virgin Islands have an enjoyable time and do not encounter crime or other safety hazards, but it's always best to stay vigilant and plan ahead.
---
Popular Destinations & Tourist Attractions in the U.S. Virgin Islands
The U.S. Virgin Islands' warm climate and beautiful beaches attract visits from around the globe, but there is much more to the territory than just that. The islands feature a varied landscape which ranges from pristine bays to rolling hills to mountainous regions, with the highest point reaching just about 1500 feet in elevation. Surfing, fishing, diving, hiking, ziplining, walking tours, and nightlife are just some of the most common activities for tourists, but there is something for every visitor to do. Whether you're an adventurer trying out some new extreme sports, a history buff visiting the sprawling plantations, or you simply enjoy relaxing on the beach and enjoying local cuisine, you're sure to find great options. To help you start planning your U.S. Virgin Island travel itinerary, we've put together a list of some of the most popular destinations and tourist attractions.
Top 15 Travel Destinations in the U.S. Virgin Islands
Magens Bay (St. Thomas)
Buck Island Reef National Monument (St. Croix)
Trunk Bay Beach & Underwater Snorkel Trail (St. John)
Virgin Islands National Park (St. John)
Christiansted (St. Croix)
Coral World Ocean Park (St. Thomas)
Cruz Bay (St. John)
Sandy Point National Wildlife Refuge (St. Croix)
Cruzan Rum Distillery (St. Croix)
Blackbeard's Castle (St. Thomas)
99 Steps (St. Thomas)
Fort Christiansvaern (St. Croix)
Coki Beach (St. Thomas)
Water Island
Fort Frederik (St. Croix)
Disclaimer: The information contained in this article serves as a general overview of benefits and should only be used for informational purposes. Refer to your individual certificate of insurance for specific coverages, exclusions and benefits. When in doubt, please contact one of our licensed agents for additional assistance.