Travel Insurance for the British Virgin Islands
Last updated on 03/08/2023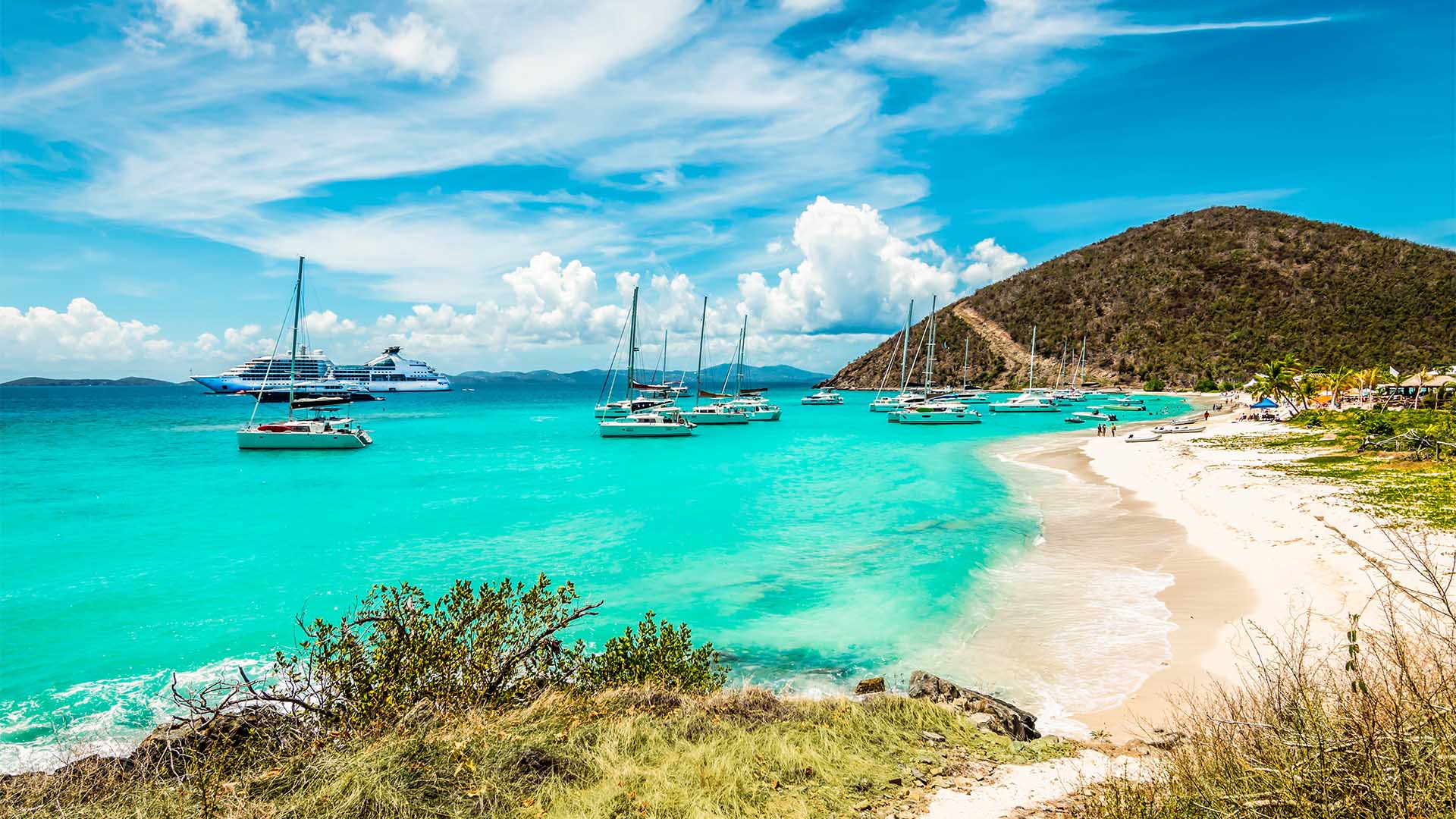 Do I Need Travel Insurance for the British Virgin Islands?
The British Virgin Islands (BVI) offer visitors a relaxing, tropical getaway free from crowds. These islands are home to private beach resorts, crystal clear waters perfect for scuba diving and snorkeling, and some of the top sailing spots in the Caribbean. When planning a trip to the BVI, travelers may wonder, "Do the British Virgin Islands require travel insurance for entry?" While travel insurance is not mandatory for the British Virgin Islands, coverage is recommended for all international trips. British Virgin Islands trip insurance may provide an array of coverages designed to suit various needs and protect the things that matter most during your trip abroad. For example, a comprehensive travel insurance plan may include travel medical insurance plus coverage for travel-related situations such as delays, lost luggage, or trip cancellation or interruption.
What Does Travel Health Insurance for the British Virgin Islands Cover?
Travel health plans for a trip to the BVI may include various coverages designed to address an array of situations. Most all travel medical insurance for British Virgin Islands covers emergency doctor visits, dental care, hospitalization, and medical evacuation. Depending on the plan, additional coverages may also be offered, including but not limited to coverage for:
Pre-existing conditions: Travelers may choose this benefit to cover treatment related to pre-existing health conditions while overseas, as many travel insurance plans are unable to cover pre-existing conditions by default. However, coverage for pre-existing conditions is time-sensitive and has other requirements.
Trip interruptions due to illness or injury: Trip interruption may offer reimbursement in the event of a covered injury or illness which disrupts your trip to the BVI.
Activities considered high risk, like surfing: A hazardous sports rider may be beneficial for adventurous travelers. If you sustain an injury during a "hazardous" activity, this rider may be required to ensure coverage for medical treatment.
Visitors to the BVI who have domestic health insurance plans should be advised that many domestic health insurance plans do not offer coverage for medical expenses incurred while traveling abroad. International insurance for the British Virgin Islands may offer coverage where domestic health insurance providers do not. We recommend travelers contact their domestic insurance providers to identify what, if any, medical expenses may be covered by their health insurance before buying British Virgin Islands travel insurance. This may help identify gaps in coverage as well as avoid overpaying for any unnecessary coverages.
How Much Does British Virgin Islands Travel Insurance Cost?
The cost of travel insurance may vary, as each policy is unique to the trip and travelers being covered. For example, longer trips to the BVI might cost more to cover than shorter trips with the same type of coverage.
In general, the price of travel insurance for British Virgin Islands is determined by certain details of the trip and travelers:
Duration of the trip
Type of coverage
Number of travelers
Ages of travelers
Travelers can typically expect to pay more when more variables or risk are involved in a trip. In some cases, travelers may insure the total trip cost, which can also affect the price of a plan.
What is the Best Travel Insurance for British Virgin Islands Trips?
A trip spent lounging and swimming at a private beach in the British Virgin Islands may benefit from different coverage options than a trip consisting of surfing, island tours, or hiking. Where some travelers prioritize coverage related to travel delays and other disruptions in transportation services, others look for identity theft protection or trip cancellation coverage.
As each traveler has unique preferences, the best travel insurance for your British Virgin Islands trip may be found by comparing between providers and plans that offer the benefits which matter most to you. InsureMyTrip's online quote generator is designed to help travelers quickly compare coverages, prices, reviews and more all in one place to find the best British Virgin Islands travel protection for you.
---
Top 15 Travel Destinations in the British Virgin Islands
Anegada Island including Cow Wreck Beach
The Baths National Park (Virgin Gorda)
Cane Garden Bay (Tortola)
White Bay (Jost Van Dyke)
Rhone National Maritime Park & RMS Rhone Shipwreck Dives
Peter Island including Deadman's Bay
Gorda Peak National Park (Virgin Gorda)
North Sound (Virgin Gorda)
Smuggler's Cove Beach (Tortola)
Sage Mountain National Park (Tortola)
Soper's Hole (Tortola)
Sandy Spit
Road Town (Tortola)
Bubbly Pool (Jost Van Dyke)
Necker Island
---
U.S. / U.K. Embassy and Consulate Locations
U.S. Embassy and Consulate in the United Kingdom
U.S. Embassy London
33 Nine Elms Lane
London, SW11 7US, United Kingdom
Phone: 44.020.7499.9000
Belfast, United Kingdom — U.S. Consulate General
223 Stranmillis Rd
Belfast BT9 5GR, United Kingdom
Phone: 44.028.9038.6100
U.S. Consulate General Edinburgh
3 Regent Terrace
Edinburgh EH7 5BW, United Kingdom
Phone: 44.0131.556.8315
U.S. Consulate General Hamilton (Island of Bermuda)
16 Middle Road
Devonshire, DV 03, Bermuda
Phone: 441.295.1342
United Kingdom Embassy and Consulate in USA
Washington DC — British Embassy Washington
3100 Massachusetts Avenue, NW
Washington DC 20008 United States
Phone: 0207.008.5000
Los Angeles, California — British Consulate General
2029 Century Park East, Suite 1350
Los Angeles, CA 90067 United States
Phone: 1.310.789.0031
San Francisco, California — British Consulate General
1 Sansome Street, Suite 850
San Francisco, CA 94104 United States
Phone: 1.415.617.1300
Miami, Florida — British Consulate General
1001 Brickell Bay Drive
Miami, FL 33131 United States
Phone: 1.305.400.6400
Atlanta, Georgia — British Consulate General
133 Peachtree Street NE, Suite 3400
Atlanta, GA 30303 United States
Phone: 1.404.954.7700
Chicago, Illinois — British Consulate General
625 N Michigan Avenue, Suite 2200
Chicago, IL 60611 United States
Phone: 1.312.970.3800
Boston, Massachusetts — British Consulate General
One Broadway
Cambridge, MA 02142 United States
Phone: 1.617.245.4500
New York, New York — British Consulate General
1 Dag Hammarskjold Plaza
885 Second Avenue
New York City, NY 10017-6927 United States
Phone: 1.212.745.0200
Houston, Texas — British Consulate General
1301 Fannin Street, Suite 2400
Houston, TX 77002 United States
Phone: 1.713.210.4000
Disclaimer: The information contained in this article serves as a general overview of benefits and should only be used for informational purposes. Refer to your individual certificate of insurance for specific coverages, exclusions, and benefits. When in doubt, please contact one of our licensed agents for additional assistance.