Travel with Older Parents
Last updated on 03/27/2023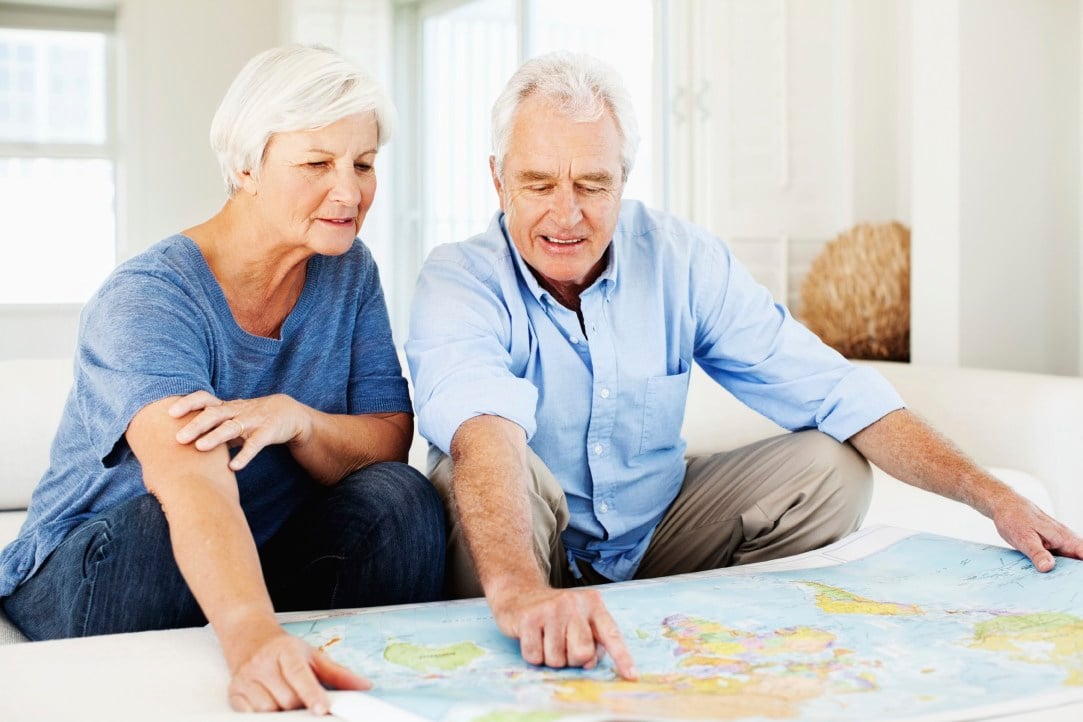 As our parents get older, it becomes so much more meaningful to share new experiences with one another. But caring for an aging parent can be stressful. The idea of going on a trip with elderly parents may seem overwhelming as a caregiver.
With proper planning and research, planning an enjoyable and stress-free vacation is possible. For those considering the travel options with aging mom and dad, here are five questions to ask before booking a trip:
What are the Best Senior-Friendly Destinations?
The urge to travel doesn't disappear with age. Finding the right destination or ways to travel can make it easier for elderly parents who may require a more relaxed itinerary with less hassle. When evaluating whether a location is senior-friendly, keep the following considerations in mind:
Ease of Access to Amenities
Access to Medical Care in Case of an Emergency
Accessibility for Seniors with Limited Mobility
Language Barriers in the Event that Medical Care or Prescription is Needed
It is always important to consider what time of year you plan on visiting your destination. While you might score a deal for travel in the winter months, don't forget that slippery conditions could make it challenging and dangerous for mom and dad to get around.
For Americans who want to travel while staying close to home, visiting Mexico or Canada could be a great option. European countries like the United Kingdom, Ireland, or Germany are popular amongst senior travelers who are looking to go abroad. These countries all feature accessible transportation options, historic landmarks to explore, with locals who can speak or understand English.
The proximity of European countries makes it possible to visit more than one location, especially if you and your parents opt for a group tour. There are tour operators that design trips specifically with seniors in mind. Smarter Travel has a list of some top tours that offer a great value and itineraries that enable travelers to explore destinations and also have plenty of downtime.
If you're hoping to see more than one destination, another great option may be to book a cruise. There are many cruise lines that cater to more mature adults. River cruising is an increasingly popular option as there are many appealing qualities of smaller ships that avoid ocean seas: less probability of motion sickness, larger rooms, less walking due to ship's size, and extra services. The luxury cruise line Viking Cruises is one to consider as it is ideal for those with food restrictions. The chefs may accommodate special diets such as vegetarian, low-salt, diabetic or low-cholesterol meals.
For those with significant medical concerns, some families may also consider bringing along a nurse or wellness professional along for the trip. The New York Times highlights a few different travel-companion services along with questions caregivers need to ask when selecting the right company to help travel with your loved ones.
How Do I Choose a Hotel for My Parents?
Travel with elderly parents may require some extra attention when it comes to booking the right hotel accommodations. Create a list of "must-haves" when comparing hotel options. Many hotels will allow guests to request a room near an elevator or help facilitate wheelchair rentals. Most hotels offer discounts for travelers over 57, so it does not hurt to ask if this is applied when booking your room!
Before you book your hotel, make sure to look at the proximity to sightseeing destinations, restaurants and attractions so parents don't have to walk too far. While the location is key, amenities are also important to double-check, especially if your parents have mobility or medical concerns. When in doubt, call the hotel directly to make sure they have the amenities you need. This way you can confirm details such as if there is more than one elevator so you won't have to use the stairs, or ensure air-conditioning is available if traveling during warmer months.
How Do I Fly with an Elderly Parent?
Some airlines offer many senior-friendly services and even airfare discounts. Visit the airline websites ahead of time to learn whether they offer pre-boarding for elderly travelers, and either wheelchair or disability assistance getting to-and-from the gate. Keep in mind, all passengers must go through security screening. The best thing you can do is give your party plenty of time to make it through security, and let a TSA officer know of any health conditions that may interfere with the regular screening process.
For the flight, chairs with moveable armrests may be the easiest for older passengers to get in and out of. Moveable armrests are most commonly found on aisle seats and are the safest bet when booking online. If your parent needs a moveable armrest in order to move from a wheelchair to the seat, you should notify the airline at least 48 hours before the flight's scheduled departure. Passengers with visual or hearing disabilities should notify flight attendants so they can be best accommodated while onboard the flight.
To make the experience more comfortable, consider packing some earplugs, a neck pillow and blanket, and compression socks to help with blood circulation during a long flight.
What Should We Pack?
Help mom and dad create a checklist ahead of time of important items they may need for a trip (including medications). Never place important medications in a checked bag, because you do not want to risk a checked bag with critical medication being lost or delayed. It is always a good idea to pack a list of medications and dosages, just in case a doctor's visit is necessary on the trip.
Review weather conditions to ensure clothing is appropriate, and research the clothing customs of your destination. For example, if you are visiting a sacred site like one of Thailand's famous temples, you will have a strict list of what you can and cannot wear. If you plan on cruising, check with your cruise line for the dress code as many cruises have specific requirements for dinner. A comfortable pair of walking shoes is one of the most important items to bring.
What Travel Insurance is Right for Our Family?
Caregivers will likely want to protect their trip investment and seek proper travel insurance that provides emergency medical care for their aging parents. For those with Medicare, this is particularly important, as Original Medicare does not cover any hospital or doctor visits while out of the country. To find the right coverage for you and your parents, contact a licensed travel insurance agent at InsureMyTrip well in advance of departure.