Travel Insurance for Iceland
Last updated on 05/24/2023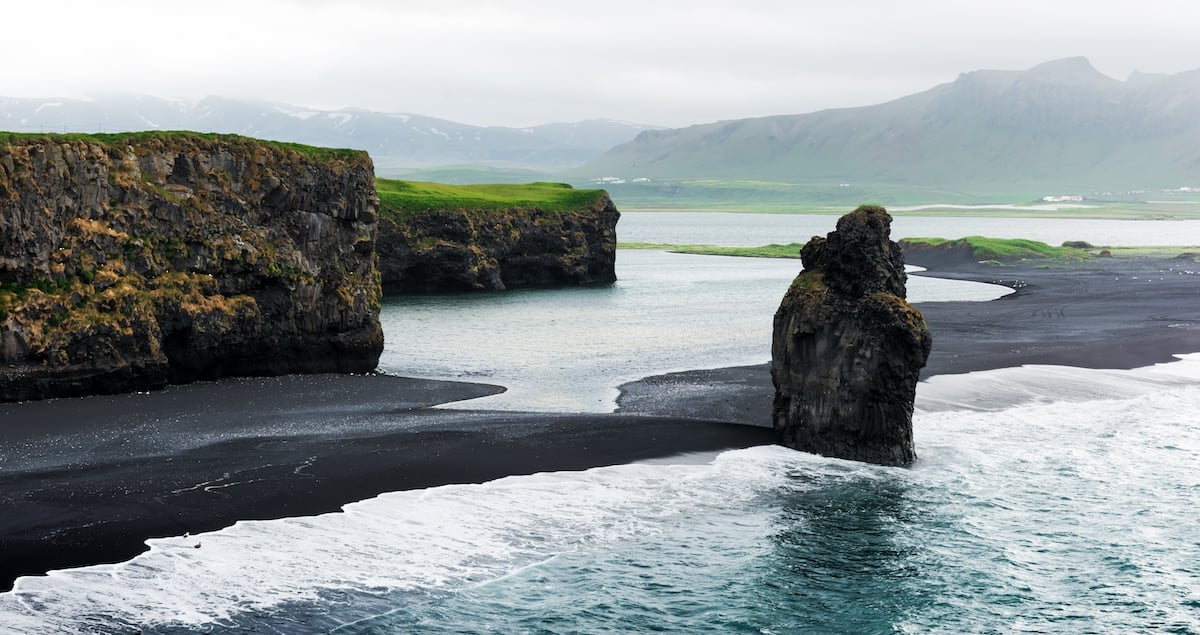 ---
---
Do I Need Travel Insurance for Iceland?
As Iceland has become one of the hottest cold-weather destinations, more travelers than ever are wondering if they need trip insurance for their visit. While travel insurance is not mandatory, it is strongly encouraged.
Iceland is known as the "Land of Fire and Ice," and for a good reason. Iceland experiences extreme weather conditions, including volcanic eruptions. In 2010, the eruption of the Eyjafjallajokull volcano caused over 100,000 flight cancellations and a six-day travel ban across Europe.
Comprehensive travel insurance plans are a great option that can offer protection for flight delays and trip cancellations that are common with bad weather. Comprehensive plans also often provide additional benefits like baggage loss coverage or emergency medical evacuation.
Another common reason why people purchase travel insurance is to supplement domestic health insurance while abroad. Many health insurance providers do not cover travelers while they are outside of their home country, and accidents abroad can rack up huge medical bills. Unpaid medical expenses have led countries like Japan and Thailand to consider mandatory travel insurance for all foreign visitors. Travel medical plans can help travelers fill in any gaps in their domestic health insurance while they are visiting Iceland.
How Much is Travel Insurance to Iceland?
The cost of trip protection for Icelandic holidays will depend on the type of plan and the coverage that a traveler requires. Plan cost will vary based on several factors such as the number of travelers in your party, their ages, the length of the trip, and the type of coverage needed.
The general rule of thumb is that the richer the benefits plan, the more expensive the coverage will be. For example, some travelers opt to insure their total trip cost, while others only need a lean travel medical plan. InsureMyTrip has reviewed over a thousand plans to help find the right coverages to fit each traveler's needs and budgets.
Is Iceland a Schengen Country?
Yes, Iceland is a Schengen County. Iceland is one of the 26 countries in the Schengen Zone. The Schengen countries have specific requirements regarding what insurance their embassies will accept before issuing a travel visa.
U.S. citizens traveling to Iceland are not required to get a Schengen Visa. However, if you are a U.S. resident who is not a citizen, the Schengen rule may apply to you. Starting January 1, 2021, U.S. citizens will need to apply for an ETIAS before they travel to Europe.
There is a list of countries whose citizens are required to obtain a Schengen visa before traveling to Iceland. If you do need a Schengen visa before your Icelandic vacation, you should consider purchasing a Schengen Visa travel insurance plan.
Do I Need a Passport for Iceland?
Yes, you will need a passport when traveling to Iceland. U.S. citizens traveling to Iceland should have a passport that is valid for at least three months beyond their intended departure date. The U.S. Embassy, however, would encourage travelers to visit with more leeway between your passport expiration date and departure date.
Your passport must meet the Schengen requirements, and if it fails to do so, you may be refused boarding. For this reason, the embassy strongly encourages travelers to have six months of validity remaining when traveling abroad, especially if you are visiting other Schengen countries.
Do I Need a Visa for Iceland?
As a result of the Schengen Agreement, U.S. citizens can visit Iceland without a visa for tourist and business purposes for up to 90 days. You will need sufficient funds and a return ticket to enter the country. Students who plan to study abroad in Iceland for more than three months will need to apply for a residence permit.
---
Iceland Travel Tips & Safety
Money & Currency Exchange
The currency in Iceland is the Icelandic Króna (ISK). Icelander pay for nearly everything with a credit or debit card, so travelers won't need to exchange much cash. You might want to consider exchanging some funds for toll roads and tips for tour guides, but it is not necessary. Be sure to contact your bank and credit card companies to let them know of your travel plans before you leave for Iceland. It is best practice to bring multiple cards from different issuers, to prevent any issue accessing your funds abroad.
Iceland charges a value-added tax, commonly referred to as VAT, on many goods and services purchased within the country. If you keep your receipts, you may be eligible to receive a refund before you leave the country. When making a purchase, ask the shop clerk for a tax-free form. Complete the form and have the store sign it and attach the receipt.
VAT refunds are issued to non-citizens of Iceland who purchased qualifying goods and services. To get your refund, you will need to present a passport and take the goods out of Iceland within three months of the purchase date. Additionally, the products must cost a minimum of ISK 4,000 (approximately $33). Travelers will need to show these goods and the necessary documents at the airport before departure.
It is important to note that tipping is not required in Iceland. Service and VAT are included in the restaurant tab. Though it is much appreciated, visitors are not expected to tip.
Transportation
The easiest way for tourists to get around Iceland is to rent a car. Renting a car allows visitors to see more of the country and drive the Ring Road. If you plan on hitting the open road, you will need a card with a pin to get gas. Most credit cards do not come with a pin, and your card will be declined if you try to pump gas. The zip code you enter when using a credit card is not considered a pin, but a debit card would do the trick. An alternative to using a debit card would be to purchase a prepaid gas card.
Reykjavik has a bus system with service to all of the major towns and attractions, but there are no railways or trains. Another transportation alternative would be to take a domestic flight to quickly jet across the entire country. This is the fastest way to get around but can be pricey with checked bags and the potential for flight delays.
Culture
Icelanders often have a reputation for having a strange sense of humor or coming off as very dry. In reality, they are very warm and welcoming people who take kindly to strangers. Icelanders are incredibly well-educated and have some of the highest levels of literacy in the world. That natural curiosity can also be seen in their genuine interest to chat and get to know you. Icelanders tend to be heavy drinkers and will often encourage you to have a beer in hand to help break the ice.
Icelanders maintain a relatively simple diet comprised of mostly lamb, seafood, and dairy. Icelandic cuisine is not for picky eaters, but those feeling adventurous can try hákarl. Hákarl, which is a fermented shark dish that has been cured and hung to dry for several months, is the national dish of Iceland and a right of passage for many visitors.
Speaking the Language
Icelandic is the national language of Iceland. English is taught as a second language, and almost every Icelander speaks it fluently. But it always helps to learn a few words and phrases when going abroad! Iceland is a small country with a population of 338,000 people, so there are not many people who speak Icelandic. Even if you learn a few phrases, it will mean a lot to the locals that you took the time to learn. Here are a few phrases to help you on your travels:
Halló: Hello
Bless: Goodbye
Já: Yes
Nei: No
Takk: Thank you
Risk & Crime
Iceland is one of the safest places on earth for travelers. It is common to see parents meet up with friends in cafes and leaving their sleeping baby in the pram outside. Seeing unattended children can be shocking for those coming from countries with higher crime rates, but abductions and violent crime rates are very low in Iceland. The low crime rate makes it an ideal destination for solo travelers or students. That does not mean it is riskfree, however. The nightlife scene in Reykjavik can be intimidating to travelers, and there is always the threat of pickpockets in major tourist areas. Those planning a trip should check our travel advisories resource page for the latest information on Iceland.
The most significant threat to tourists in Iceland is mother nature. The unforgiving weather can create hazards for travelers, so check forecasts and road conditions, especially if you are traveling during the winter. Road closures are often necessary due to winter weather, wind, and landslides. The Icelandic beaches are wildly popular tourist destinations, but the waves are deadly and unpredictable. The undercurrent is strong, the sea is ice-cold, and surprisingly tall waves can crash onto the shore even on the calmest of days. Stay alert and do not turn your back on the water. As tempting as it may be, don't wander off and walk across icebergs. Although it may look safe and be connected to land when you set off, icebergs can quickly break off from the land, putting you in grave danger if it tips over.
Luckily a little common sense and self-awareness will go a long way towards staying safe in Iceland. If a guide or a sign advises you against challenging the elements, it is best to heed that advice.
---
Popular Destinations & Tourist Attractions in Iceland
Iceland has so much to see and offer, and travelers would be hard-pressed to try and do everything in one trip. Luckily, we've compiled a list of top Icelandic destinations to help you start mapping out your ideal itinerary. Whether you want to go bathing in a natural hot spring, drive the golden circle, or shred the slopes at one of their renowned ski resorts, you're sure to make unforgettable memories during your travels to Iceland.
Top 10 Travel Destinations for Iceland
Reykjavik
Blue Lagoon
Mývatn
Golden Circle
Vatnajökull National Park
Reynisfjara
Akureyri
Jökulsárlón
Vik
Húsavík
---
U.S. / Iceland Embassy and Consulate Locations
U.S. Embassy in Iceland
U.S. Embassy Reykjavík
Engjateigur 7
105 Reykjavik, Iceland
Phone: 354.595.2200
Icelandic Embassy and Consulate in USA
Washington DC — Embassy of Iceland
House of Sweden
2900 K Street N.W. #509
Washington DC 20007 United States
Phone: 1.202.265.6653
New York, New York — Consulate General of Iceland
733 Third Avenue, 18th Floor (between 45th and 46th Street)
New York, NY 10017 United States
Phone: 1.646.282.9360
Disclaimer: The information contained in this article serves as a general overview of benefits and should only be used for informational purposes. Refer to your individual certificate of insurance for specific coverages, exclusions and benefits. When in doubt, please contact one of our licensed agents for additional assistance.